You know those mornings where you wake up late and you literally have 10 minutes to get yourself ready and out the door? We all have those mornings, and that's when a quick breakfast on the go is most needed. 
A lot of you ask if having a protein shake for breakfast is a good thing. Although you can get a wide range of vitamins and minerals from food, a protein shake can be a very handy way of ensuring you still get these without having to skip breakfast or reach for that pastry.   
Choosing a good protein shake for breakfast can be tricky as there are plenty out there to choose from, so which is the best for you to enjoy for breakfast?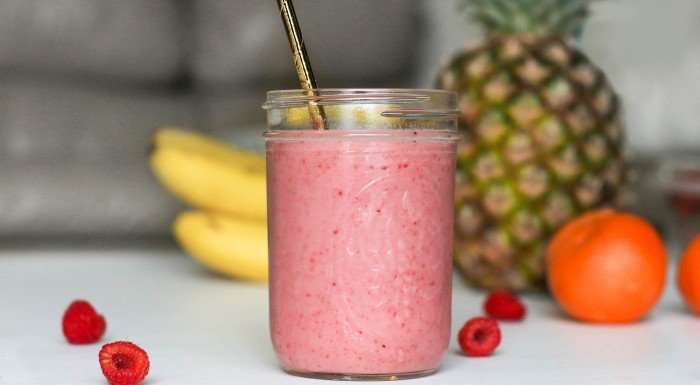 Why breakfast is a good time for a protein shake
Protein shakes are convenient
Having a protein shake for breakfast can be a quick and easy way to start the day, with minimal preparation required, compared to other breakfast options. 
You can even prepare added fruits in advance and keep them in the freezer until they're needed.  
Protein breakfast shakes will help you lose weight
Of the three macronutrients, protein has the highest effect on satiety, which is the feeling of fullness following a meal.  
The most important factor when it comes to weight loss is being in a caloric deficit.1 Starting your day with a protein shake has a satiating effect which can make you less likely to overeat later in the day. Protein digests slowly, while a breakfast high in carbs (like toast or cereal) digests quickly and can cause a rebound blood sugar (and hunger) effect. While the calories in protein shakes vary, there are plenty of options to stay within a reasonable calorie level.
Protein breakfast shakes will help increase your daily protein intake
When looking to lose weight, it's important to retain as much lean muscle mass as possible. If you're aiming to be in a calorie deficit and retain muscle mass, a high protein intake is recommended.1 When you're targeting weight loss, it's important to maintain muscle mass and ensure your body is burning fat instead. This can be hard if you don't have many calories to play with. 
A high protein breakfast shake can provide a high dose of protein with a low number of calories. Look for weight loss or meal replacement blends, or choose to mix protein powders with low calorie milk alternatives or water to save on calories.
Protein breakfast shakes will help maintain/build muscle  
Whether you're trying to maintain muscle during weight loss or looking to build muscle to bulk up, consuming protein at breakfast is important. Especially if you're working out consistently, you want to make sure you're getting adequate protein to refuel for up to 24 hours after your workout. When you have high protein goals for the day, having a protein shake for breakfast will set you up for success. 
Your body goes through continuous periods of muscle protein breakdown and muscle protein synthesis. After an overnight fast, your breakdown will be higher than synthesis but a protein shake for breakfast will change this by supporting your muscle protein synthesis.
Is a protein shake for breakfast good for fat loss?
Whether you're cutting calories for weight loss or just trying to burn fat, a protein shake for breakfast can support muscle growth (or retention) and therefore help preserve lean mass while targeting fat loss (as long as you're in a calorie deficit).  
Protein shakes are so versatile that they can support many different goals. A protein shake for breakfast can also be good for weight gain – but as long as you have a calorie surplus for the day. If weight gain is your goal, try a gainer blend and make sure you're fuelling adequately throughout the rest of the day.
Protein Breakfast Shake Recipes
Mornings wouldn't be the same for most without a caffeine hit. Providing 45mg of caffeine and 29g protein, this smoothie is a great way to start the day. 
Milk has a high amount of casein and combined with the Impact Whey this shake will help to increase muscle protein synthesis for a longer period helping you maintain and build muscle. This breakfast protein shake gives you a boost of energy and acts as a filling meal replacement to start your day on the right track. 
Protein: 26g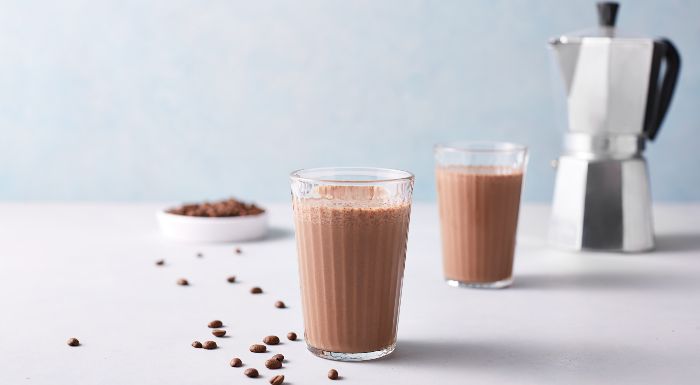 The raspberry whole fuel blend contains a wide range of added vitamins and minerals such as Vitamin A, C, calcium and vitamin E meaning alongside the raspberries, this shake provides a big dose of micronutrients for a healthy start to the day. This shake also provides 14g of fibre – nearly half of daily intake requirements.2 This protein shake is a refreshing breakfast treat that is perfect for before or after a workout, and the vitamins support healthy metabolism.
Protein: 39g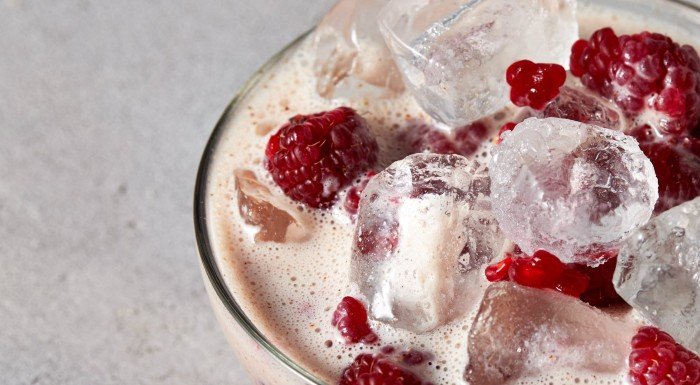 Ingredients
1 Scoop (25g) 

Matcha Whey Protein

 

2 Medium-Sized Fresh Peaches

 

½ Thumb Root Ginger (grated)

 

75ml Milk (of your choice)

 
Matcha whey protein contains caffeine so it saves having to add brewed coffee to the smoothie. 
Matcha is a form of green tea so alongside the ginger and peaches it will provide a refreshing start to the day. In addition to caffeine, matcha is packed with catechins, antioxidants and anti-inflammatory substances to support overall health.3 The peaches are also a good source of vitamin C and 2 peaches contain 4g of fibre.  Having a green tea protein shake for breakfast is a great alternative to coffee, giving you plant based energy and plenty of nutrition to fuel your day. 
Protein: 24g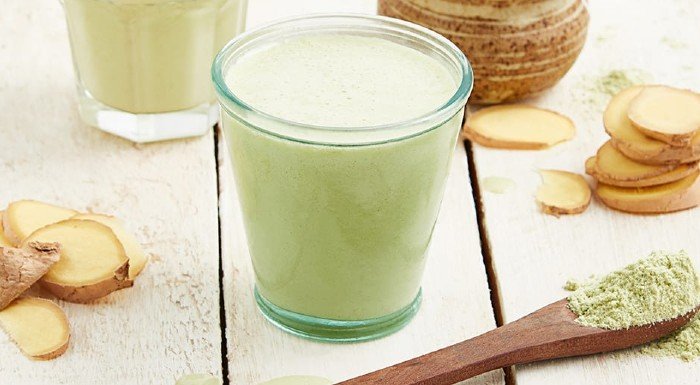 Take home message
Having a protein shake for breakfast isn't harmful to your health in any way regardless of your goal being to gain muscle or lose weight. It's much better than skipping breakfast overall or reaching for a pastry or something unhealthy on the go.  
There's a wide range of protein powders available and you can even try experimenting with some vegan options too. Adding some spinach or berries to your breakfast protein shake is a great way to boost the nutritional profile of your shake in order to best support your immune system and health overall.