The world of supplements can be confusing to navigate. Do I need to take iron tablets when it's that time of the month? Should I be adding protein powder to my porridge? What's the deal with vitamin C and effervescent tablets?  
Perhaps even more confusing is the range of information on multivitamins. Some days we're told that they're essential for good health, other days social media shines a negative light on them. 
We're here to tell you why you should take a multivitamin. If you don't tick any of the boxes then listen to your gut — chances are you don't need a multivitamin if you're having doubts that you need a multivitamin supplement at all.  
What is a multivitamin?
Going solely by its name, it's no wonder that there's some confusion around the subject of multivitamins. After all, if these supplements have the word vitamin in them, surely that's all they contain?  
Although some multivitamins only contain vitamins, many contain a mixture of vitamins and minerals. Some may even include additional ingredients such as herbs and spices which show evidence of enhancing your health.  
Multivitamins come in several different forms: a tablet, capsule, effervescent, or powder. The supplement world is ever-growing and new forms of multivitamins are emerging every day.  
Why would I benefit from a multivitamin?
We won't sugar coat the truth. Multivitamins are no substitute for a healthy, balanced diet. These supplements are not a cure-all and should not be deemed as wonderous miracles.  
Multivitamins are a great way to ensure that you are getting an adequate supply of vitamins and minerals. A good multivitamin will meet most of your nutritional requirements in the form of a Reference Intake to ensure that you are getting the most out of your money.  
One way to see it is to view a multivitamin as a way to top up your nutritional supply and fill in the gaps in your diet.1 
There are certain groups of people where adding a multivitamin to your supplement regime could be a great benefit to your health. This includes: 
Allergy sufferers. Those who suffer from allergies and may need to exclude certain foods from their diet, such as those who are lactose intolerant and avoid dairy. 
Vegetarians and vegans. A plant-based diet can miss out on specific nutrients through the avoidance of animal products, such as vitamin B12 and iron. 
The older adult. As we get older, our bodies find it more difficult to absorb certain nutrients. Our palettes may also become more limited which reduces the number of foods we eat to consume a varied diet for good vitamin and mineral intake. 
Pregnant and breastfeeding women. Pregnancy increases our need of certain nutrients.
Of course, there are other times and situations in which you may find that a multivitamin would benefit your health. This includes times of stress, when you may have less time to devote to meal planning to ensure you diet is well balanced and varied.  
You may be moving house, starting a new job or even going through a particularly stressful life moment where food, nutrition and health are not your top priority.  
You may also benefit from a multivitamin that's been specially tailored to your needs, such as specifically being for men or women.
Why would I not benefit from a multivitamin?
If you're eating a variety of foods to provide a rounded, well-balanced diet that includes your 5 a day, there's little need to worry about a multivitamin. Your diet likely includes an adequate supply of all the essential vitamins and minerals that you need.  
However, based on statistics, only 26% of the UK population eats their 5 a day which means that the majority of our population could be lacking in vitamins and minerals since fruit and veg are one main way to consume a variety of vitamins and minerals.2,3 
Take home message
We aren't advocating that you can afford to take one multivitamin supplement every day and only eat pizza. What we are advocating is that a multivitamin is a great way to ensure that your diet is complete with vitamins and minerals to benefit your health with an all-rounded approach. 
If you're having any doubts as to whether you would benefit from taking a multivitamin, why not try a one months' supply and see whether you feel or notice a difference once the first month is up?  
Our articles should be used for informational and educational purposes only and are not intended to be taken as medical advice. If you're concerned, consult a health professional before taking dietary supplements or introducing any major changes to your diet.
1. Ward, E. (2014) 'Addressing nutritional gaps with multivitamin and mineral supplements', Nutrition Journal, 13(72), pp. 72. doi: 10.1186/1475-2891-13-72 
2. National Health Services (2017) Statistics on obesity, physical activity and diet. Available at: https://assets.publishing.service.gov.uk/government/uploads/system/uploads/attachment_data/file/613532/obes-phys-acti-diet-eng-2017-rep.pdf (acessed: 1st June 2020) 
3. Slavin, J.L. and Lloyd, B. (2012) 'Health benefits of fruits and vegetables', Advances in Nutrition, 3(4), pp. 506-516. doi: 10.3945/an.112.002154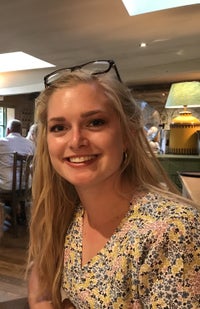 Shannah Hatch began her career in the field of nutrition after attending a Farm to Fork workshop. She currently works as a Dietetic Support Worker, providing nutritional guidance and support within the NHS. Shannah has previously worked to create new supplement products to launch and took the ideas from paper into the warehouse. Her most enjoyable learning experiences include shadowing other health professionals and attending talks on a range of issues such as the link between our diet, female hormones and sport. Shannah has participated in many volunteering opportunities, including work with food banks, leading sports nutrition workshops and participating in trial studies. She hopes to continue making a difference in the industry, educating and collaborating with others to encourage good nutrition. In her spare time, Shannah enjoys rock climbing, running and trying to piece a tune together on the piano.