We didn't think fajitas could be improved on until we made this ultimate layer cake.
Forget about filling and wrapping each individual fajita – that's so 2020. Now it's all about building layers and layers of tender chicken, sizzling peppers, and oozing cheese — which you can then slice into a generous wedge and serve up with a dollop of sour cream and salsa.
If that hasn't got your full attention yet then we don't know what will.
Serves 5
Ingredients
1 tbsp. olive oil
2 chicken breasts (sliced)
2 peppers (sliced)
1 onion (sliced)
2 tbsp. fajita seasoning
4 tortilla wraps
150g low-fat mozzarella (grated)
Serve with: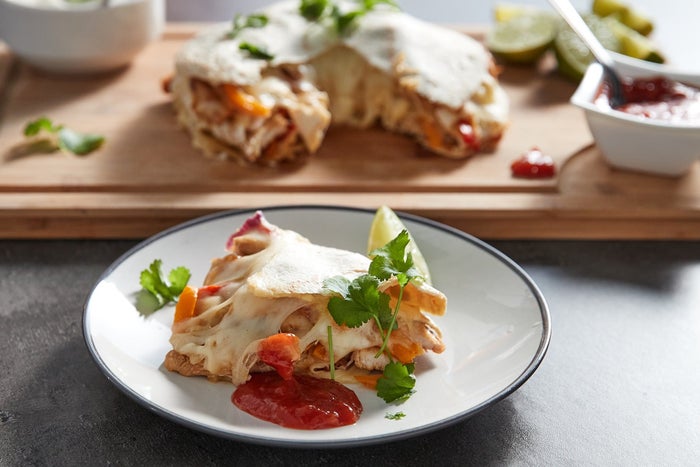 Method
Preheat oven at 180°C and prepare a large circular baking tin with baking parchment.
First, heat the oil in a large non-stick frying pan over a medium heat. Add the chicken strips and cook until they've turned from pink to white all the way through.
Add the onion and pepper strips and cook for another 2-3 minutes to soften. Then add the fajita seasoning and stir through to make sure everything is evenly coated. Cook for a further 2-3 minutes.
Next, prepare your baking tin to start building the layers by adding the first tortilla wrap to the bottom. Add a third of the chicken mixture on top of the wrap, making sure it's evenly spread across, then sprinkle with a third of the grated mozzarella and cover with a second tortilla wrap.
Repeat the process twice more until all the chicken and cheese is used up, then place a final wrap on top of the stack. Use your hands to firmly press the fajita layers down and then cover the baking tin with tin foil. Place in the oven to cook for 15-20 minutes.
Once cooked, carefully remove from the baking tin. A good way to do this is to place a plate on top of the tin and gently flip upside down — be careful to use oven gloves for this though!
To serve, slice up into wedges and make sure to have plenty of salsa and sour cream alongside. Then get ready to experience actual heaven.
Nutritional info per serving:
| | |
| --- | --- |
| Calories | 294 |
| Total Fat | 9g |
| Total Carbohydrates | 19g |
| Protein | 31g |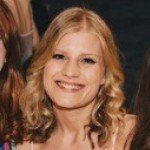 Lauren is an English Literature graduate originally from the South. She's always loved swimming, has discovered the power of weight training over the past few years, and has lots of room for improvement in her weekly hot yoga class.
On the weekends she's usually cooking or eating some kind of brunch, and she enjoys trying out new recipes with her housemates – especially since shaking off student habits, like mainly surviving off pasta. Above all, she's a firm believer in keeping a balance between the gym and gin.
Find out more about Lauren's experience here.