Keep these oatmeal cups in the fridge for an easy grab & go breakfast.
---
This sweet and simple recipe from Niall Kirkland is a great solution for weekday meal prep — all you have to do is make up a batch on a Sunday evening and you'll be set for the full week ahead.
These delicious cups of oaty goodness can be reheated in the oven or microwave, or if you're tight for time they can just be enjoyed as they are while you're on the move.
You can switch up the flavour combinations and toppings too — ideal if you get bored by the same old Weetabix day in, day out.
Makes 16
Ingredients
250g 100% Rolled Oats
1 tsp. cinnamon
1 tsp. baking powder
1 banana (mashed)
100g maple syrup
1 tsp. vanilla essence (or 3-4 drops of Vanilla FlavDrops)
200ml milk of choice
2 eggs
Optional toppings:
75g chocolate
1 tsp. 100% Coconut Oil 
Handful chocolate chips
30g peanut butter
1 banana sliced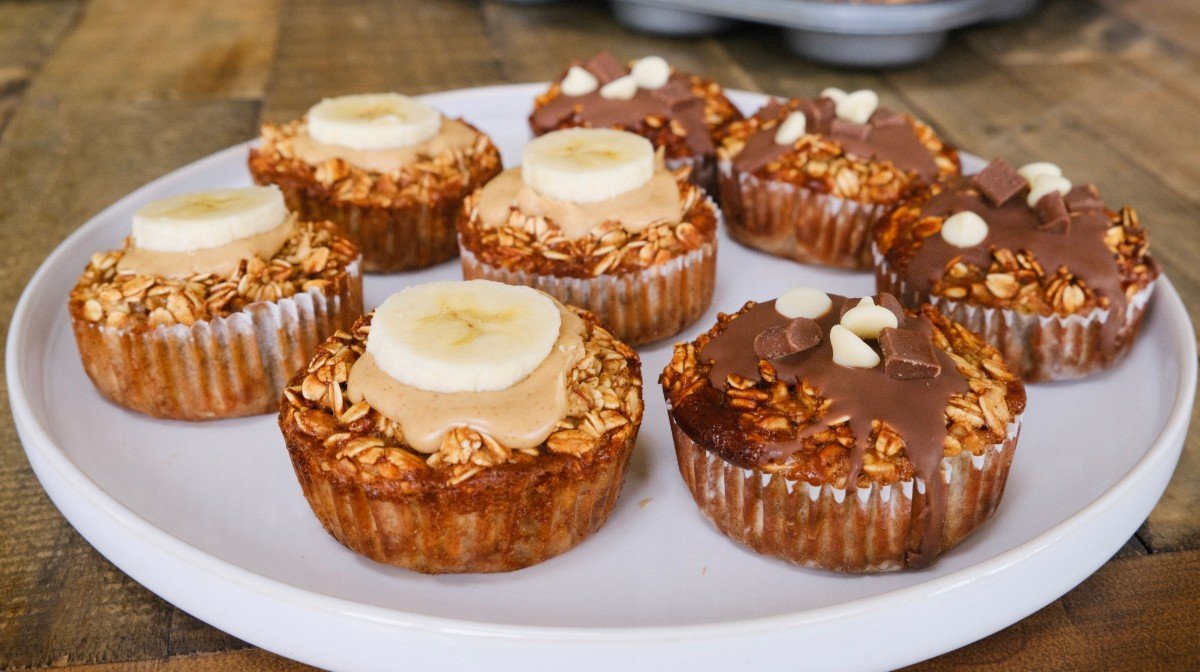 Method
First, preheat oven to 175°C/350°.
In a large mixing bowl, add the oats, cinnamon, baking powder and mix together.
Then, add the mashed banana, maple syrup, vanilla, milk and eggs and mix together well.
Now, divide the mixture between 16 muffin cases and bake in oven for 30 minutes.
Once baked, remove and allow to cool for 10 mins.
Now, prepare your toppings. Niall's gone for two classic combos — melted chocolate with a sprinkling of chocolate chips, and melted peanut butter with sliced banana.
Allow the toppings to set and enjoy! These will keep in fridge for 3-4 days, making them great for breakfast on the move or a quick post-workout snack.