This skillet sweet potato frittata is the perfect go-to dish for a lunchtime fix or quick midweek dinner to use up some veg in a tasty way. High in protein, it's also great meal to enjoy after a gym session and will help you hit your daily requirements.
Plus it serves 2 – so you can keep half to take to work the next day. Sorted.
Click to jump straight to the nutritionals.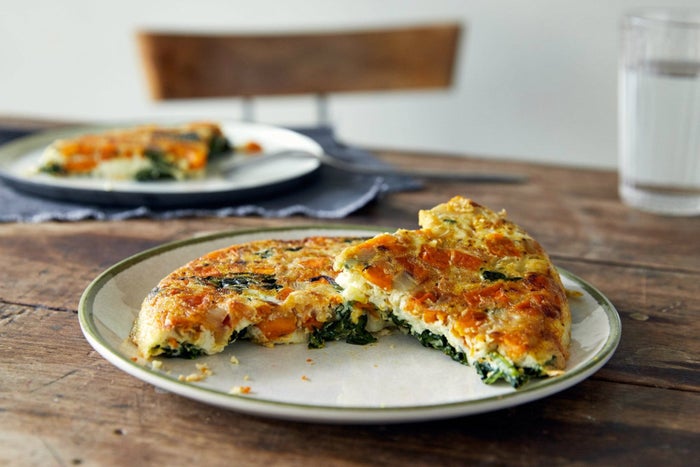 Makes: 2 servings
Prep time: 15 mins
Cook time: 20 mins
Total time: 35 mins
Ingredients
8 large eggs
1 small sweet potato
2 tsp. olive oil
1 small onion
130g kale leaves
Salt
Pepper
Method
First preheat the oven to 230°C.
Prep the veg – peel and cube the sweet potato into small ½ inch cubes, roughly chop the onion and kale leaves.
Next, separate the eggs into yolks and whites. You'll only be using 4 of the egg yolks, so keep the other 4 for another recipe. Beat all 8 of the egg whites in a large mixing bowl until they form soft peaks.
Gently add the 4 egg yolks to the beaten egg whites, mixing carefully until they're combined. Then put the eggs in the fridge while you cook the veg.
Put the cubed sweet potato in a large, non-stick skillet, cover with 250ml of water and put over a high heat to bring to the boil (if you don't have a non-stick skillet, you can use a regular one – just use plenty of oil!).
Reduce the heat to a simmer and then cook, stirring occasionally, until all the water has evaporated. Then add the olive oil, onion, and season with salt and pepper. Cook over a medium heat, stirring often, until the onion softens.
Add the kale and cook for a further 2 minutes until the kale has wilted.
Make sure the veg covers the bottom of the skillet evenly, then pour the egg mixture on top and spread so that you have a smooth layer.
Bake in the oven for around 5-6 minutes, until the sweet potato frittata is cooked through – it should be puffed and very lightly browned on the top.
NUTRITIONAL INFORMATION PER SERVING
Nutritional info per serving:
| | |
| --- | --- |
| Calories | 388 |
| Total Fat | 19g |
| Total Carbohydrates | 29g |
| Protein | 25g |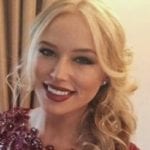 Jennifer Blow has a Bachelor's of Science in Nutritional Science and a Master's of Science by Research in Nutrition, and now specialises in the use of sports supplements for health and fitness, underpinned by evidence-based research.
Jennifer has been quoted or mentioned as a nutritionist in major online publications including Vogue, Elle, and Grazia, for her expertise in nutritional science for exercise and healthy living.
Her experience spans from working with the NHS on dietary intervention trials, to specific scientific research into omega-3 fatty acid supplementation and also the effect of fast foods on health, which she has presented at the annual Nutrition Society Conference. Jennifer is involved in many continuing professional development events to ensure her practise remains at the highest level. Find out more about Jennifer's experience here.
In her spare time, Jennifer loves hill walking and cycling, and in her posts you'll see that she loves proving healthy eating doesn't mean a lifetime of hunger.