Want a delicious dinner that doesn't take ages to prepare? We got you.
Who else is still adjusting to actually having plans and places to be now that things have opened up again? Suddenly we have better things to be doing with our evenings than tackling a recipe with seven different stages and an ingredient list that's half a page long — so we've got the perfect quick dinner solution that still hits the spot.
Made with plenty of veggies and a whole load of crumbled feta, this minimal effort meal is packed with incredible taste and texture. Try it and we guarantee it'll become a regular feature in your weekly recipes.
Serves 4
Ingredients
1 sheet readymade puff pastry
3 tbsp. pesto
1 courgette (sliced)
1 red onion (sliced)
2 peppers (sliced)
Cherry tomatoes (halved)
100g low-fat feta
Salt & pepper
Chilli flakes
Fresh parsley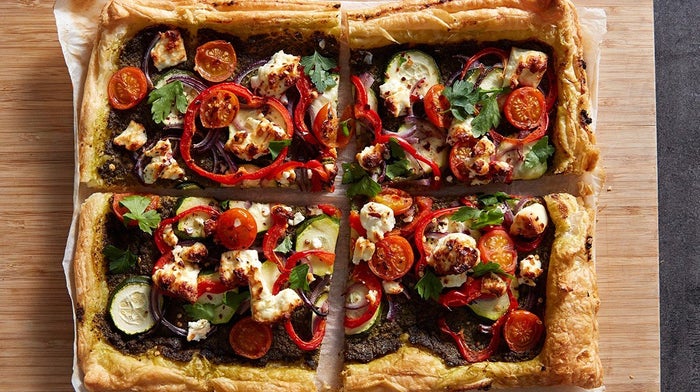 Method
Preheat the oven to 180°C.
Roll out your pastry and place on top of a lined baking tray. Fold up the edges to create a 1-inch border around the sides and then spread the pesto in the middle.
Add all the sliced veg onto the pastry, evenly spaced out, and then crumble the feta over the top. Season with salt & pepper and a sprinkle of chilli flakes, then bake in the oven for 20 minutes.
Garnish with some fresh parsley, then slice up into quarters and tuck in!
Looking for more dinner inspiration?
Nutritional info per serving:
| | |
| --- | --- |
| Calories | 282 |
| Total Fat | 16g |
| Total Carbohydrates | 23g |
| Protein | 9g |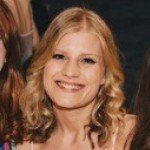 Lauren is an English Literature graduate originally from the South. She's always loved swimming, has discovered the power of weight training over the past few years, and has lots of room for improvement in her weekly hot yoga class.
On the weekends she's usually cooking or eating some kind of brunch, and she enjoys trying out new recipes with her housemates – especially since shaking off student habits, like mainly surviving off pasta. Above all, she's a firm believer in keeping a balance between the gym and gin.
Find out more about Lauren's experience here.