Seasonal eating. Yet another thing to think about when it comes to what we put on our plates!  But don't worry, seasonal eating isn't as technical as you might think it would be.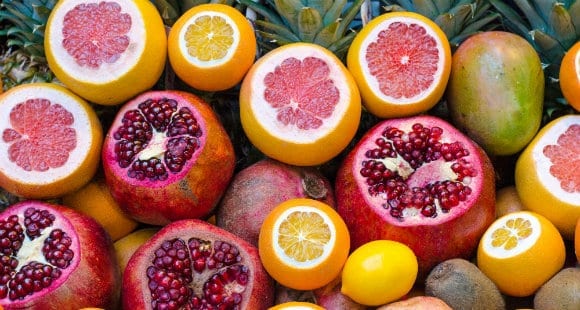 To keep things simple, we've composed a list of when popular fruit and vegetables are 'in season' in the UK. This should give you an idea of how seasonal eating works.  
| | | | |
| --- | --- | --- | --- |
| Autumn  | Winter  | Spring  | Summer  |
| Apples  | Apples  | Asparagus  | Aubergine  |
| Cauliflower  | Beetroot  | Rhubarb  | Blueberries  |
| Celery  | Brussel sprouts  | Purple sprouting broccoli  | Courgettes  |
| Pumpkin  | Carrots  | Spinach  | Raspberries  |
| Parsnips  | Leeks  | Spring onions  | Strawberries  |
| Marrow  | Mushrooms  | Rocket  | Tomatoes  |
Here are some things to think about when it comes to eating seasonally.  
1. Nutrition
We'll start with the point that so many of us are interested in — our nutrition! We know that many of you want to know the answer to the burning question, is seasonal food more nutritious than when we eat food outside of its season? 
The frustratingly short answer is… it depends.  
We know, we know! Not what you wanted to hear. But it varies based on the food's storage, when it was picked and how soon you eat the produce after purchase.  
We agree that if you picked a punnet of strawberries in the morning and ate them at home that very afternoon, your produce would be very nutritious with limited loss of nutrients. 
However, if you picked your strawberries on a Monday morning and only ate them on a Thursday, it's likely that your strawberries will have lost some nutrients since being picked. 
Frozen fruits and vegetables are often picked when they reach their peak nutritional value and frozen immediately, therefore the produce retains many of its micronutrients during storage.  
If you're looking for fresh options, it's best to buy your fruit and veg as and when you need it rather than in one shop for the whole week. Although you don't know how long the food has been sitting on the shop floor for, you can reduce the time it spends sitting in your fridge or fruit bowl.  
2. Price 
This may not be a biggie for some of us, but if you are interested then you'll be pleased to hear that purchasing fruit when in season is much cheaper than buying said fruit outside of its picking season.  
This is because the food on our supermarket shelves outside of the produce's season has had to travel further rather than being grown in its normal conditions. This essentially means that we pay for the additional travel costs when the food is not in season in the UK.  
It's also important to point out that price plays a part in reflecting the impact our food has on the environment. Pricier food means it's travelled further which has an impact on our carbon footprint.   
3. Taste 
Whilst this is a personal preference, some people say that food tastes better when its picked in season! We completely understand where they're coming from as it's probably sweeter, juicier and riper than its counterparts that have travelled 1,000 miles in a crate.  
4. Helping the community 
Buying food in season supports your local community as it's no surprise that farmers markets and local farms only grow what's in season within the UK!  
The food is cheaper to grow and is more likely to prosper in its native environment. When you buy food from your local farm or growers, the profits go back into your local community.  
How do I start eating seasonally?
Start with checking out what's being sold at your local farmers market. If you're feeling more techy, look for recipes online, in books or in apps that filter recipes around foods in season.  
Take home message
The long and the short of it is that we should be eating seasonally. For the benefit of the environment, your local community and your bank account, we would all benefit from choosing foods that have been grown within the same season.  
It won't hurt to buy a food item out of season every now and then (strawberry trifle at Christmas time, we see you!), but if you do like to purchase foods outside of their normal season, why not buy them fresh when they've just been picked and freeze them yourself?