This one-pan halloumi & harissa bake is simple food that hits the spot. 
---
Forget long ingredient lists and complicated instructions, this hearty dish is easy to get right even if you're not all that confident in the kitchen. Oh, and there's minimal washing up too, which is always a win.  
It's a deliciously rich and warming dish, packed with plenty of flavour thanks to the generous dollop of harissa, which is a hot aromatic paste made from chilli and spices. Paired perfectly with aubergine (known for being great at soaking up flavour) and everyone's favourite squeaky cheese, this is definitely one of our winter favourites.  
Serves 4 
Ingredients
2 tbsp. olive oil
1 aubergine (sliced)
2 garlic cloves (crushed)
1 can chopped tomatoes
1 tbsp. harissa paste
225 g block halloumi (sliced)
To garnish: fresh basil
Serving suggestion: couscous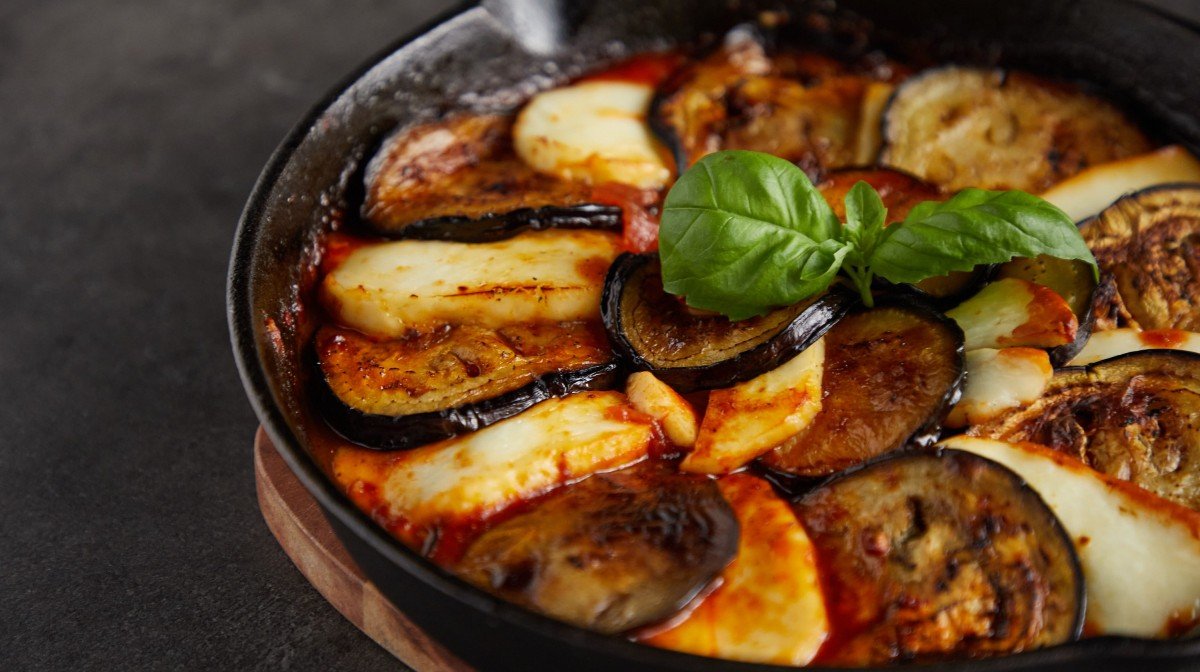 Method
Preheat oven to 180°C. 

First, heat 1 tablespoon of oil in a large oven-proof skillet pan. Fry the aubergine slices for a few minutes on each side until nicely browned and then remove from the pan and set aside.  

Add the remaining olive oil to the same pan and then add the crushed garlic. Fry for 2 minutes over a medium heat, then add the chopped tomatoes and let simmer for 5-10 minutes until thickened.  

Stir the harissa paste through the tomato mixture and then carefully remove from heat. Build spiralled layers of alternating aubergine and halloumi slices on top of the tomato base until completely covered. 

Bake in the oven for 10 minutes until the edges of the halloumi begin to brown. Serve immediately or portion up into your meal prep containers for your lunches later in the week. It's a perfect match for a bed of fluffy couscous.