This fruit smoothie is berry tasty!
Rich in antioxidants and full of flavour, this chia pudding is an ideal detox smoothie which can be part of a gourmet breakfast. Boasting numerous health benefits and a delicious taste, it would be rude not to follow this step by step recipe.
Gain more than just a smoothie!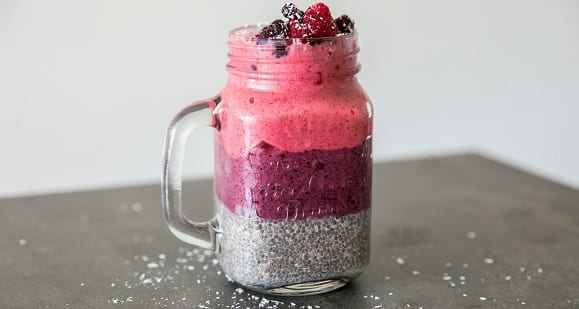 Ingredients
1/4 Cup

Chia Seeds

225 ml Coconut Milk
3 tbsp

Agave Syrup

1 Banana
1 Handful Frozen Raspberries
1 Handful Frozen Blueberries
Instructions
1.
Start by soaking the chia seeds in the coconut milk and add 1 tbsp of agave syrup in your glass 24 hours in advance.
2.
Your chia seeds will absorb the milk and thicken overnight.
3.
The next day, mix half a banana with blueberries and 1 tbsp of agave syrup.
4.
Do the same with the other half of the banana and raspberries, and add the last tbsp of agave syrup.
5.
Place the blueberry mixture over the chia seeds and then layer the raspberry mix on top.
6.
You can add extra fresh fruit or coconut shavings on top for extra goodness.
Voila! Your layered berry chia smoothie is ready!