Who says churros can't fit into your diet plan?
Best enjoyed while they're still warm, these incredible treats from @healthy_floflo are baked rather deep-fried, making them the ideal healthy alternative to satisfy your sweet-tooth. They're also dusted with zero-calorie stevia rather than classic sugar, which helps them to be a little more macro-friendly.
The best part? They're a match made in heaven for our chocolate Protein Spread. Get dippin'
Serves 4
Ingredients
For the dough:
For the coating:
Method
Preheat the oven at 180°C.
Add the water and coconut oil to a sauce pan and heat gently until the oil melts. Then add the sugar and FlavDrops and mix.
Add flour — make sure to sieve this first so that you don't get lumps — and mix with a spatula until it forms a dough.
Let the dough cool down for around 10 minutes and then carefully transfer into a piping bag with a close star nozzle. Pipe the dough onto a baking tray into long sausages, using a pair of scissors to chop at the length you want.
Cook in the oven for 20-30 minutes until golden and a bit crunchy on the outside.
In the meantime, mix together the zero-calorie sweetener and cinnamon to make a sweet cinnamon dusting. Once the churros are cooked, take them out and coat them in this dusting.
Dip into chocolate Protein Spread for the ultimate treat! *chef's kiss*
Looking for more sweet treats? Try these:
Nutritional info per serving:
| | |
| --- | --- |
| Calories | 269 |
| Total Fat | 13g |
| Total Carbohydrates | 33g |
| Protein | 5g |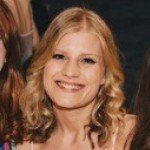 Lauren is an English Literature graduate originally from the South. She's always loved swimming, has discovered the power of weight training over the past few years, and has lots of room for improvement in her weekly hot yoga class.
On the weekends she's usually cooking or eating some kind of brunch, and she enjoys trying out new recipes with her housemates – especially since shaking off student habits, like mainly surviving off pasta. Above all, she's a firm believer in keeping a balance between the gym and gin.
Find out more about Lauren's experience here.