This recipe from @kirstyfletcher is a real contender for our all-time fave Easter treat.
Made with irresistible Chocolate Eggs-flavoured The Whey protein powder and a generous dollop of our milk chocolate Protein Spread, it's a rich, indulgent-tasting cake that comes packed with 32g of protein per serving. Oh, and it only needs 2 minutes in the microwave to be ready. Talk about an instant hit.
Go to town with all the toppings you fancy to satisfy those sweet-tooth cravings. You know you deserve it.
Makes 1
Ingredients
10 g plain flour
1/2 tsp. baking powder
Pinch salt
10 g Protein Spread (Milk Chocolate)
50 ml almond milk
2-3 drops Vanilla FlavDrops
15 g Sugar-Free Syrup
10 g Protein Spread (for topping)
4 chocolate eggs
Method
In a small microwave-safe ramekin or mug, combine the protein powder, flour, baking powder, and salt.

Mix in the milk, vanilla FlavDrops, and Sugar-Free Syrup. Stir well to make sure there's no lumps.

 Place a generous spoonful of milk chocolate Protein Spread in the centre of the dish and then cover with a little mixture.

Pop in the microwave for 2 minutes – checking every 30 seconds to make sure it's not overflowing.

Top with a little melted milk chocolate Protein Spread and some chocolate eggs for a super-indulgent finish – and enjoy.

Tip: be careful of that molten protein chocolate centre!
Nutritional Facts
Amount per serving
| | |
| --- | --- |
| Calories | 340 |
| Total Fat | 12g |
| Total Carbohydrates | 25g |
| Protein | 32g |
Want more recipe inspo?
TRY THIS NEXT: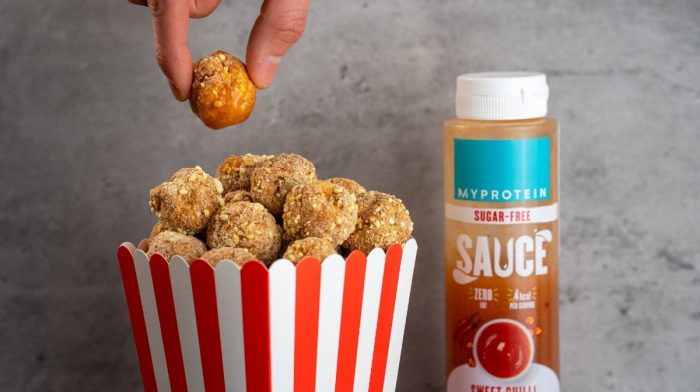 Always tempted by fried chicken? Try this fakeaway instead.