Newsflash, salads can taste good. Yes, really.
Forget about bowls of flavourless, limp lettuce — these delicious salads will change your summer meal prep game, trust us. Made with plenty of fresh ingredients, varied textures, and incredible flavour combinations, this is how to enjoy healthy eating.
1. Quinoa & Feta Salad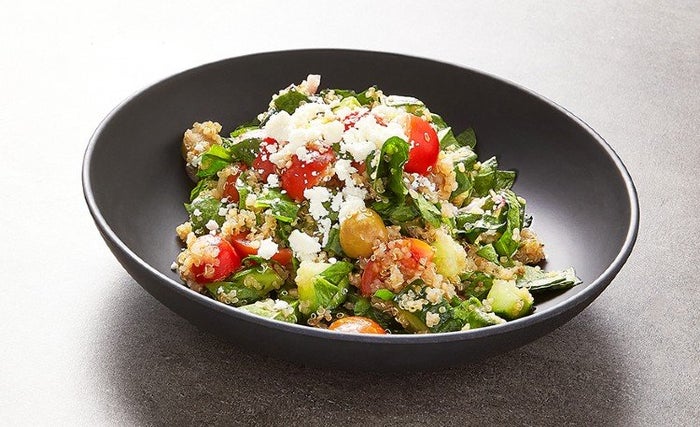 Serves 4
Ingredients
For the dressing:
3 tbsp. olive oil
1 tbsp. salt
Juice of 1 lemon
Zest of 1 lemon
1 tbsp. oregano
For the rest:
200g quinoa (cooked)
200g baby spinach (chopped)
300g cherry tomatoes (quartered)
1 ripe avocado (chopped)
½ red onion (chopped)
1 cucumber (chopped)
100g green olives (pitted & halved)
100g feta (crumbled)
Method
1) First, prepare the dressing in a small bowl — add all of the ingredients and mix thoroughly with a fork or whisk. Set aside.
2) Next, in a large bowl, add the cooked quinoa, baby spinach, cherry tomatoes, avocado, red onion, cucumber, and green olives. Use a pair of salad spoons to mix all of the ingredients together.
3) Add the dressing to the salad and mix again to make sure everything is evenly covered.
4) Serve with crumbled feta & enjoy!
Nutritional info per serving:
| | | | |
| --- | --- | --- | --- |
| Calories | Protein | Carbs | Fat |
| 450 | 13g | 44g | 25.8g |
2. Grilled Peach Salad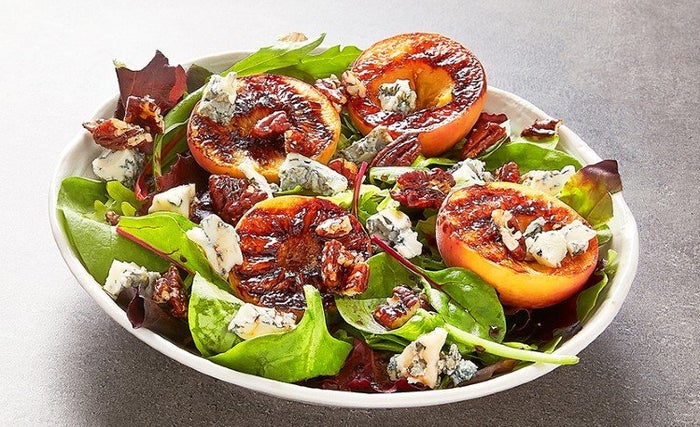 Serves 1
Ingredients
100g pecans
2 tbsp. agave syrup
1 tbsp. black pepper
2 peaches (halved)
Olive oil
1 tsp. coconut sugar
100g leafy greens
25g gorgonzola
For the dressing:
2 tbsp. balsamic vinegar
1 tbsp. oil
2 tbsp. water
Pinch of salt
Method
1) Preheat the oven to 160°C.
2) Place the pecans on a lined baking tray and cover with the agave syrup —use a spatula to make sure each one is evenly covered. Sprinkle with black pepper and cook for 20 minutes.
3) Meanwhile, prepare your balsamic dressing by adding the vinegar, oil, water, and a pinch of salt to a small bowl and mixing well with a whisk or fork. Set aside.
4) Next, prepare your peach halves for grilling by brushing them with oil and sprinkling with sugar. Place each one face down on a hot griddle pan and grill for a couple of minutes.
5) Create a bed of leafy greens in a bowl and then place the peach halves on top. Sprinkle with a small amount of gorgonzola and a handful of the candied pecans. Then add a few spoonfuls of the balsamic dressing and enjoy!
Nutritional info per serving:
| | | | |
| --- | --- | --- | --- |
| Calories | Protein | Carbs | Fat |
| 467 | 10.9g | 52.6g | 26g |
3. Vermicelli Prawn Salad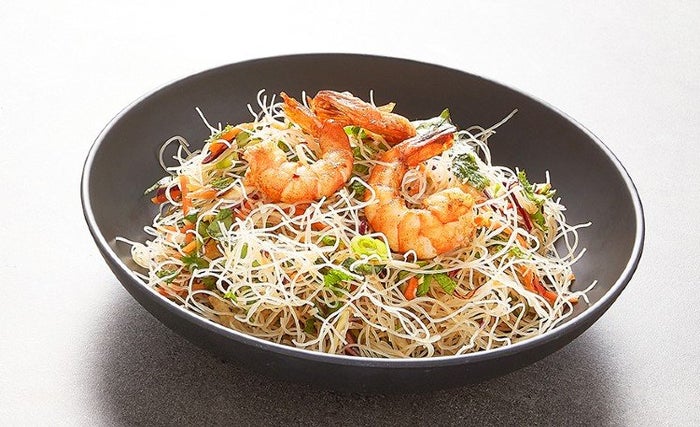 Serves 4
Ingredients
200g vermicelli noodles
Water
100g carrot (grated)
100g red cabbage (shredded)
3 spring onions (chopped)
Handful mint leaves (chopped)
Handful basil leaves (chopped)
Handful coriander (chopped)
For the shrimps:
1 tbsp. butter
300g prawns
1 tsp. chilli flakes
1 tbsp. lemon zest
1 garlic clove (minced)
Pinch of salt
For the dressing:
3 tbsp. soy sauce
Juice of 1 lime
2 tbsp. vegetable oil
2 tbsp. rice vinegar
1 garlic clove (minced)
2 tbsp. maple syrup
1 red chilli (chopped)
1 tsp. lemongrass
Pinch of salt
Method
1) First, prepare the vermicelli noodles by placing them in a bowl and covering with water. Leave them to soak for 10 minutes.
2) Next, make the dressing by adding all the ingredients to a jar and shaking (with the lid on!) — if you don't have a jar, you can just stir everything together in a small bowl.
3) Now cook the prawns. Add a knob of butter to a frying pan over a medium heat, then add the prawns. Season with the chilli, lemon zest, garlic, and salt and leave to simmer for a few minutes before turning and cooking on the other side. Once the prawns have turned from grey to pink on both sides, remove from the pan and set aside.
4) Drain the noodles and add them to a large mixing bowl. Then add the carrot, cabbage, spring onions, and fresh herbs and stir well until everything is evenly mixed. Add the dressing and stir again so that everything is covered.
5) Portion up the noodle salad and serve with a few cooked prawns on top. Enjoy!
Nutritional info per serving:
| | | | |
| --- | --- | --- | --- |
| Calories | Protein | Carbs | Fat |
| 319 | 24.2g | 30g | 11.5g |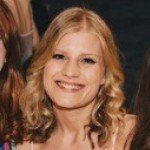 Lauren is an English Literature graduate originally from the South. She's always loved swimming, has discovered the power of weight training over the past few years, and has lots of room for improvement in her weekly hot yoga class.
On the weekends she's usually cooking or eating some kind of brunch, and she enjoys trying out new recipes with her housemates – especially since shaking off student habits, like mainly surviving off pasta. Above all, she's a firm believer in keeping a balance between the gym and gin.
Find out more about Lauren's experience here.