June 20, 2021. The date Scotland celebrated a first World's Strongest Man title. The date Tom Stoltman made history. The date he confirmed his place on the Road to G.O.A.T.
It's a no-brainer then that we hit up the World's Strongest Man to a chat about his journey. A trophy lift is a fantastic image, but it doesn't tell the full story. Join us as we discuss his training, nutrition, brotherly love, cheat meals that aren't really cheat meals, and how autism has played its part on the journey so far.
"Luke knows me inside out"
Tom grew up in the small town of Invergordon in Scotland. Invergordon has a population of around 3,900 people, meaning finding different gyms or sports clubs to join was difficult. After playing football for a few years at school, Tom was taken under his brother Luke's wing and began lifting weights in their local gym. From that day forward, the Stoltman brothers were by each other's side through everything, as they began to make a name for themselves. 
"Luke's been a massive part for me. From day one he was the first person I was in the gym with and he's been by my side ever since. He's been a massive influence and a massive reason why I'm probably who I am today." 
Having Luke, who is seven years older than his brother, on his team gave Tom an edge. Luke had been lifting for years, and coupled his advanced knowledge of the sport with an unrivalled understanding of his sibling to great effect. 
"Luke knows me inside out so it's not like with a personal trainer where they'd have to ask you all these questions, he just knew everything about me."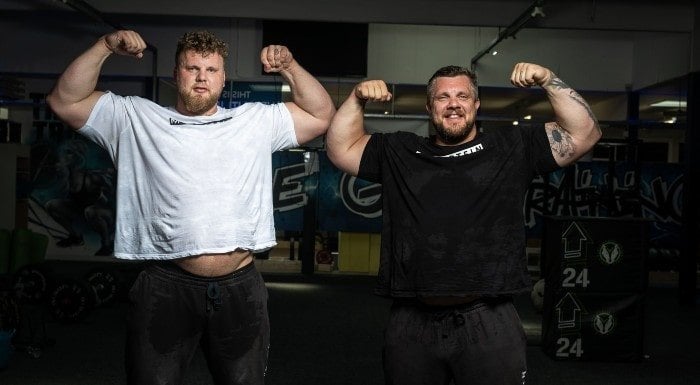 "I can always make sure everything is 100%"
Fans of the Strongman champ will know that he was born with autism – a developmental disorder that impacts social interaction and communication, often characterised by repeated thought and behaviour patterns. 
Tom opens up about his experience with autism regularly, and has described it on his Instagram page as "a superpower". When we asked him what he meant by this, he explained how it both helps and hinders. 
"Strongman is a routine-based thing, and it's the same with autism. So, with Strongman, you wake up, you eat at the same time, train at the same time, recover – it's all the same thing. So I can always make sure everything is 100% because it's easy for me to follow." 
Of course, there are days where his autism presents a significant challenge. 
"If something changes without me having a few days' notice, or if I missed a meal or if I was on a long journey and didn't have as much food or didn't prep myself well enough or with interviews and stuff like that, that'd when the autism is at its worst because I get stressed out and overthink things and it can be really bad at some points." 
Tom has learnt to manage his autism, with the help of people like his wife Sinead and his sister, who works with people with autism herself. 
"Obviously, it doesn't just disappear, I've just learnt how to manage it. But there's still days where it can get on top of me and get me really stressed and worried when I shouldn't really have to." 
Tom's mum used to be one of the only people he'd confide in when he was going through tough times. But following her passing, his wife Sinead, who he's been with since he was just 18, is always there to say the right things just when Tom needs it. 
"Me and my wife Sinead are a really good team together, she understands me, she doesn't have to come up and ask what's wrong she knows exactly what's wrong with me. When I'm coming up to competitions she knows exactly when to cook my meals. So having someone like that is just really easy. She's been in my life for 10 years. She's been there along the journey, been to every comp and she knows me inside out. So, when you know someone like that it's so much easier"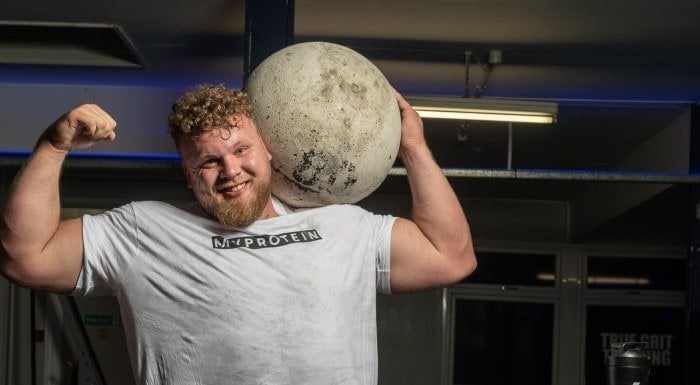 "Cheat meals are just part of our diet"
If you came into this article thinking you were going to hear about how Tom eats kilos upon kilos of chicken and rice every day, you were sorely mistaken. Cheat meals are key to Strongman success. And Tom thinks nutrition in general is the holy grail when it comes to Strongman training. 
"Nutrition is a massive one. You can do two days in the gym but as long as you eat right, you'll win any competition you do. That's what was really good for me in World's. I didn't miss a meal – kept to my diet 100% and the results show." 
So what exactly was Tom's Strongman diet? 
"When you're 8-10 weeks out of a competition, you're on 7-8000 calories which sounds a lot, but for Strongmen it's not. That's a lot of eggs, red meat, rice, fruit and veg. I don't touch pasta or anything like that – only on cheat meals." 
Then, as he gets closer to a comp, the food goes up, and up, and up. 
"As you get closer to the competition that's when the cheat meals add – so I'll maybe have a cheat meal before a training session, plus an extra cheat meal at the weekend but I'll always have 70-80% good food in me as well." 
Tom says his "worst diet" was leading up to World's Strongest Man this year. 
"It's just about getting fuel in your body and at this point I was at maybe 11-12000 calories and it was just all fuel – burgers, chips, lasagne, pasta – really high-carb, whole foods that would just keep that energy up and I did that for 8-9 days." 
Then he describes his diet as he inched closer to the comp.
"When we were getting closer to World's breakfast would be normal, mid-morning snack would be normal, lunch would be chicken and whatever else, and then the meal before the gym would be the most important, that would be the added meal which would be like burger and chips and if you don't eat that, you're not gonna get that fuel.  
"If you eat that meal your session will be like 60% more effective than if you were still on your diet from a month or two ago. We don't have really 'cheat meals' – those cheat meals are just a part of our diet."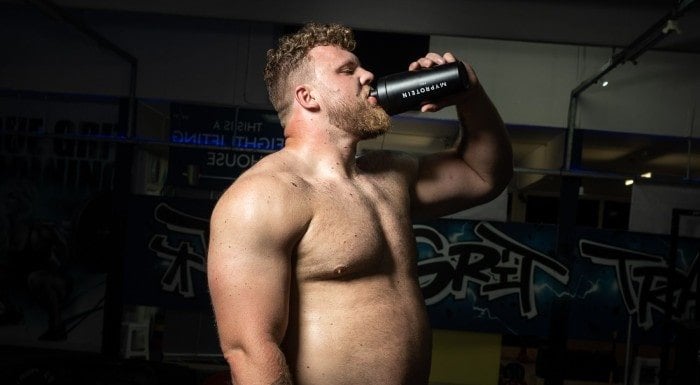 "The diet goes up; the training comes down"
You may initially assume training must be day in, day out, especially as competition draws near. In fact, it's the opposite. 
"The training kind of reverses so the diet goes up, the training comes down. You need to be as rested and as fuelled as you can. So, if your competition is in 8 days and you're lifting all the way up to two days out then your body's not gonna be fully recovered." 
Talking us through his World's Strongest Man prep, Tom says... 
"For WSM for example I did the 12-week prep so the first 4 weeks was like volume, getting me fit and conditioned, being able to move the weight. Then the next four weeks was strength so we took away the reps, we took away the conditioning stuff and we just focused on just strength. 
Then we'd have a de-load where we did just really light weight to get the body recovered. Then the last four weeks would just be – the first two would be a mix of conditioning or strength stuff then the last two would be maybe two days a week in the gym to really get everything recovered." 
Even though Tom is the World's Strongest Man, he is not about ego lifting, and all about proper form and proper rest. 
"Training and doing the training right is so important. De-loading at the right time, knowing when to back off at the right time, not pushing it just for your ego."  
"I want to go for back-to-back champion"
Tom now has all his big comps out of the way for this year, and his big focus for 2022 is retaining the World's Strongest Man crown. 
"I want to go for back-to-back champion and I just want to be consistent with my competitions next year like this year has been tough around World's and all the media and travel, I just couldn't get back into a proper routine and with covid as well. So hopefully, I'll get this year over with, get a few good results and then next year really bang on the training again, get World's sorted and then get consistent podiums on all the competitions I do." 
He makes it sound easy... And if 2021 was Tom Stoltman without proper routine, we can't wait to see what he does with one.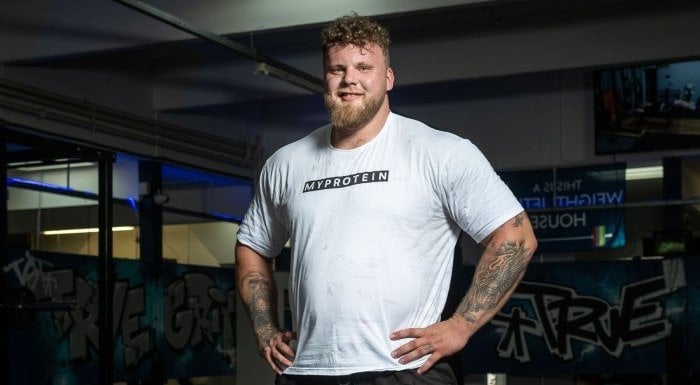 Take home message
Tom's an inspiration to all those with hidden disabilities, and his road to World's Strongest Man shows the power of dedication and passion. We're eagerly awaiting World's Strongest Man 2022 to see what Tom can do and we'll be backing him to achieve that back-to-back G.O.A.T status.
Read our other Road to G.O.A.T. articles here...