Feeding a strongman is a mammoth task. It takes an incredible amount of calories to fuel their gruelling training sessions so they can maintain their strength. But exactly just how much food does it take?
Kushi Stoltman shared an inside look, sharing what just one day is like preparing and cooking food for her husband, Luke Stoltman. Kushi takes on the job of feeding Luke presumably so he can focus on training, and it looks like a full-time job. She's the real MVP.
First up, is breakfast. This is prepped the day before, which is great news for Kushi who gets to have a well-deserved lie-in while Luke heads out and about to start his day. Luke's overnight oats are in the fridge all good to go — milk, oats, vanilla FlavDrops and berries. And on the side, a plate of eggs he usually cooks up himself.
When Luke hits the gym, Kushi hits the kitchen. Luke comes in from a training session with a rumbling tummy, luckily his next meal is waiting for him. For his first(!) lunch he has two large potatoes seasoned with garlic and rosemary cooked in the air fryer, a TikTok special. Alongside this he has mince cooked with a beef stock cube, boiled veg and coleslaw. Literally meat and potatoes — it doesn't get much more Scottish than that.
And why have one lunch when you can have two? For his second lunch of the day, he has two large sweet potatoes halved and roasted until soft, four burger patties and yet more boiled veg and coleslaw.
And no meal is complete without pudding. Luke's partial to a strawberry tart. Or two.
Feeding a strongman definitely isn't cheap, but more about that here: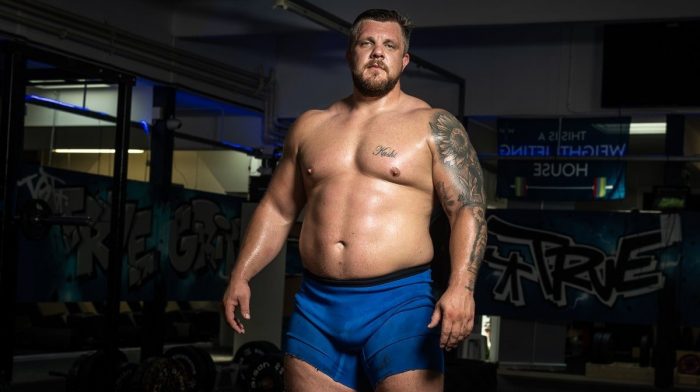 And there are two Stoltmans.
We hadn't even considered that meals of this size wouldn't fit on normal sized plates. Kushi shared an insight into their crockery cupboard — Kushi's plates vs Luke's plates — The difference is quite something. Luke even eats his pasta from a serving bowl.
Finally, dinner time. Meatballs and spaghetti with all the trimmings. Garlic bread and plenty of cheese. And then Kushi can put her feet up ready to do it all the next day. She loves to cook and feels she's vital to Luke's success. Teamwork makes the dream work.
Take Home Message
And there it is. The amount of food Luke Stoltman, former Europe's Strongest Man, eats in a day. Overall, it works out to roughly 10,000 calories, which is a hell of a lot of cooking, time, and money.