Vitamin K is a fat-soluble nutrient with crucial roles supporting bone health and blood clotting. It's recommended that adults consume between 90-120mcg of vitamin K per day.1 But where should you get it from? We've put together a list of 15 foods high in vitamin K, so getting enough in your diet should never again be an issue.
It's well known that many vitamins and minerals are crucial to our health, but vitamin K is unique in that its intake needs to be monitored in those taking blood-thinning medications, so you should talk to your doctor before making any significant dietary changes.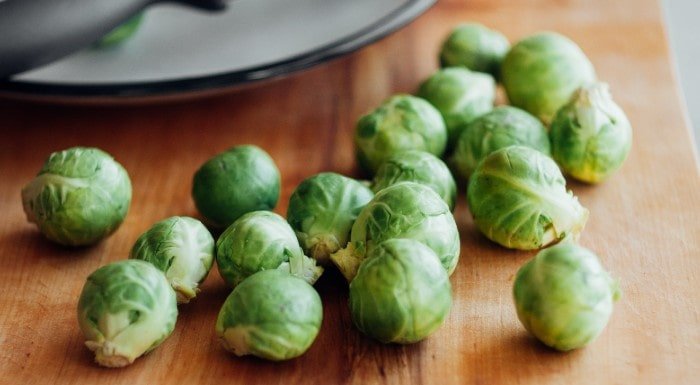 15 Foods High in Vitamin K
Collard greens
Dark, leafy greens are typically associated with high levels of Vitamin K, and collard greens contain 105mcg in just two tablespoons of cooked greens. While dense in many other nutrients, these greens are especially high in Vitamin K.
Turnip greens
Turnip greens, while less commonly consumed than collard greens, contain the same amount (105mcg) of vitamin K in just two cooked tablespoons. These may be used in any dish of braised greens or added to a leaf lettuce assortment.
Spinach
Spinach is a commonly consumed source of vitamin K, containing 145mcg in one cup of raw spinach. Packed with nutrients, spinach can be added to smoothies without changing the flavour too much, scrambled with eggs, or served as a salad. Spinach is also a good plant-based source of iron.
Kale
Kale is another popular green high in vitamin K, containing more than 140 mcg in two cooked tablespoons or one cup raw. Kale is also high in vitamin A, calcium, and potassium, making it very nutrient dense for so few calories (about 35kcal in one cup).
Romaine lettuce
While not as dark in colour as kale or spinach, romaine lettuce is another green that is high in vitamin K, with about 60mcg in a cup of raw lettuce. Popular in caesar salads, romaine also contains high levels of vitamins C, K, and folate (B9).
Green leaf lettuce
Green leaf lettuce is higher in vitamin K than romaine lettuce, containing about 100mcg in one cup. Popular in salads, leaf lettuce has a deep green colour but a milder taste than kale or spinach. One cup contains only five calories.
Broccoli
Broccoli is high in vitamin K, with 90mcg in one cup of raw broccoli and about 110mcg in a cup of cooked broccoli. A good source of calcium, iron, and other minerals, broccoli also adds fibre and flavour to many dishes.
Cabbage
Popular as a diet food all on its own, cabbage can be cooked in soups, eaten shredded in salads, or even put in stir fries. This versatile vegetable is low in calories (about 6 calories per leaf), but it has a moderate amount of vitamin K (58 mcg per cup), and makes up about 15% of your daily vitamin C needs.
Brussels sprouts
Popular the world over, brussels sprouts look like mini cabbages and contain similar nutrients, with sprouts containing about 120mcg of Vitamin K per half cup. Very nutrient dense, they also contain more than your daily requirement of vitamin C per cup, plus about 13g of dietary fibre.
Spring onions
While spring onions are not a traditional dark leafy green vegetable, they still contain plenty of vitamin K, with about 207mcg per cup. Often used for garnishes or cooked into dishes, they are also rich in vitamins A and C.
Asparagus
Asparagus contains about 70mcg of vitamin K per cup. It is low in calories, and also contributes fibre and folate to your diet as well as some protein (about 4g per cup).
Soya beans
Soya beans are a great vegan protein source, with 33mcg of vitamin K per serving. They are also good sources of fibre, phosphorus, and potassium.
Soya bean oil
Like soya beans, soya bean oil can contribute to your daily vitamin K intake. Often found in salad dressings or used as a cooking oil, soya bean oil contains 3.4mcg of vitamin K in a single tablespoon.
Edamame
Packed with fibre and protein, edamame is another form of soya bean that is popular for its flavour and nutrition. It's also a good vegan source of iron, containing about 45mcg per cup.
Avocado
Avocado is a fruit high in vitamin K, with one cup containing up to 50mcg. It's also a source of healthy fat and contains 3g of protein per cup.
The avocado isn't a one trick pony either. Get the low-down on its other benefits below…
Beef liver
Beef liver is far from the most popular food, but it's incredibly nutrient dense, with 100g of beef liver containing 92mcg of vitamin K, as well as vitamin A, folic acid and iron.
Take home message
Vitamin K is crucial for our overall health, so it's important we try to consume foods rich in the vitamin. It's worth keeping these in mind to support getting your daily recommended intake. And if you still struggle to get enough of it in your diet, you may consider getting Vitamin K from a supplement if your doctor thinks it would be beneficial.