This summer, we're getting out there and trying something new. Forget your usual fitness routine and leave your comfort zone behind as you #OwnTheSummer. To inspire you and get you started, myself and Lauren Dawes have been trying out some exciting alternatives to our usual gym routine, as well as some interesting diet trends.
This week, we spun, swung, and rolled our way through an aerial fitness session where we go to grips with silks, aerial hoop, straps, and acrobalance.
We were very excited to be spending a whole morning testing our balance and strength at Cloud Aerial Arts in Manchester, a large warehouse packed with silks, hoops, poles, and so much more for swinging from.
On arrival, we were immediately made to feel welcome by Maria and ­­­Kit in the homely reception before heading through to where the real action happens. What wasn't so welcoming was how high up you could get on the silks — luckily we were staying pretty close to the ground on our first go.
We kicked off with a quick warm up before heading for the silks.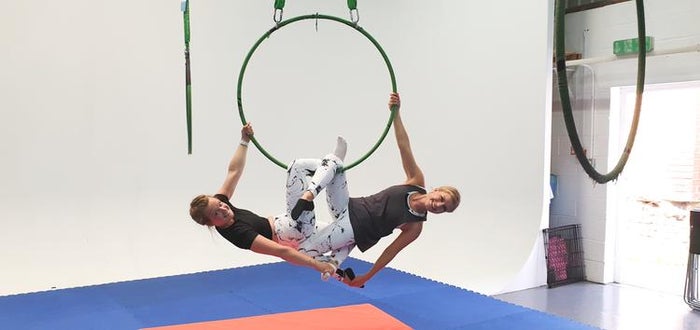 Aerial Silks
If you've never heard of silks, then it's easiest to explain it as two very long pieces of material hanging down from the ceiling. You can then use these to climb up high and perform some pretty impressive moves (although we only got a couple of feet off the floor).
We started by learning how to knot with our feet so that you can securely stand on the silks and then tried a few different moves like the splits and even a few upside down!
While you might be thinking this all sounds incredible graceful and flexible of us, we can in fact confirm that it's also pretty hard. As it turns out, the whole point is to be strong and fit enough to make it look easy — and upper body strength is something that we're both lacking in.
It was incredibly fun and rewarding when you finally pull off the move though and definitely has you breaking a sweat for anyone looking for a good strength-based workout.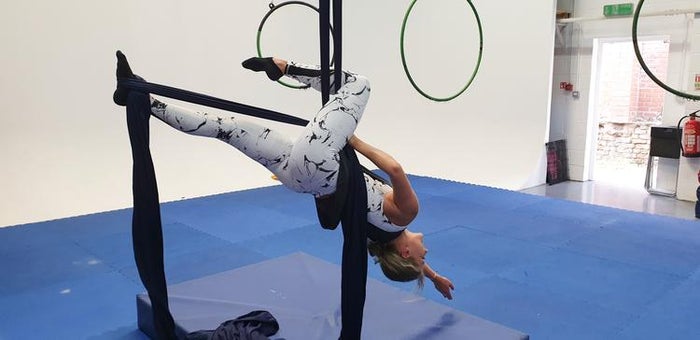 Aerial Hoop
The hoops were what I was most excited about, but as it turned out, this was again SO much harder than it looked. We could also do with some lessons in grace and poise judging from the video of our "routine" below…
This one requires even more upper body and core strength to pull yourself up onto the hoop, but it was great fun spinning around and, with Maria's expert guidance, not falling off too often. Being able to learn (but definitely not perfect) a routine was also really encouraging.
It would be interesting to see what we could do with slightly stronger arms. The hoop also pinches your legs a little bit, but Kit and Maria assured us that you get used to this. Check out our "routine" if you want a good laugh...
https://youtu.be/oFArqCjzSLU
Straps
This was by far the most difficult and takes a ton of upper body strength that neither of us had. It felt like it would be suited to a strong gymnast, however Kit was very encouraging and got us upside-down eventually.
We tried a couple of different moves with his help, but I think we definitely need to be adding some pull ups to our gym routine before we give this one a try again.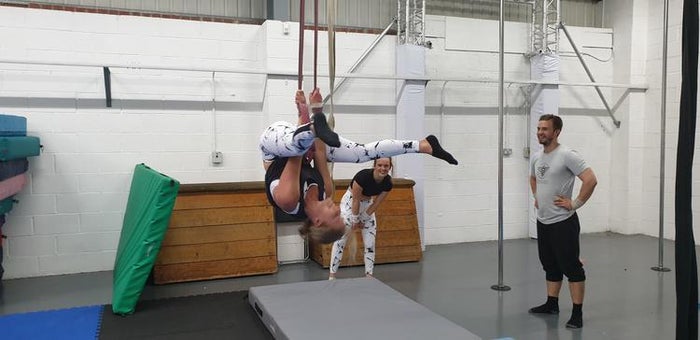 Acrobalance
Forget silks, straps, and hoops for now because acrobalance is all about using your body (and your partner's) to pull off cool moves. Again, Kit made it look so easy when you really required superhuman strength and a good sense of balance.
Still, we managed the throne position, a front angel lying down, and even to move between the two of them with a little help. If you don't mind being grappled all over, then this is a really rewarding way to work with a partner and achieve some pretty cool moves. It also requires quite a lot of trust in your partner as they're pretty much balancing you on top of them…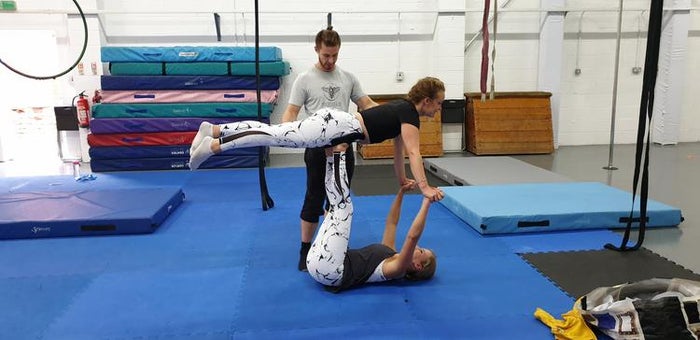 We asked Cloud Aerial Art's Maria some questions...
How did you get into aerial fitness? Did you do any sports before you started?
I used to work in an office as a secretary and some of the girls there suggested we go for a pole fitness lesson for fun and I absolutely loved it and went back every week. That was ten years ago.
I hated the gym and never did any sports or exercise before that and I was absolutely rubbish when I started! Because I had hated PE at school and been really rubbish at it I used to feel really self conscious and it was awful feeling not good enough, so it was really fun to still be rubbish at this new sport, but to have a laugh and enjoy it as well, no matter how many times I failed. After only a couple of weeks I realised how much stronger I was getting and it became addictive working towards the next new move.
What do you think is the most challenging part?
The most challenging part is definitely how difficult it can get. I've been doing it ten years now and there are moves I still can only dream of getting. It's always surprising me how new and inventive people can be with aerial arts and there's always something new to learn.
What advice would you give to someone taking up aerial fitness?
My advice to new people is that everyone is rubbish when they first start, don't be put off by not being able to lift your own body weight in the first lesson. Keep at it and you'll be amazed what you can achieve.
Book a class with Cloud Aerial Arts or check out their Instagram for some inspiring spins and swings.
Our Verdict
This was the most fun and challenging workout I've had in a long time. If you kept this up for a while, it'd make you stronger and more flexible than any weightlifting session. It was also great to experience such a supportive and friendly community, which is great for beginners.
We'll definitely be taking on a couple of classes more regularly to mix up our workout routine and to perfect our currently far-from-perfect hoop routine!
Check out some of the other things we've tried...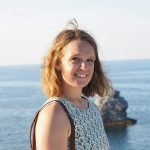 Evangeline has taken part in competitive sports since a young age. As a qualified RYA Dinghy Instructor, she understands the importance of proper nutrition for fuelling extreme and endurance sports, especially due to her experience in Team GBR Squads and captaining and coaching her University first team.
In her spare time, Evangeline loves running – especially marathons. On the weekends, you'll find her taking on water sports or hiking up a hill. Her favourite evenings are spent taking on a HIIT session or squats in the gym before digging into some spicy food and a ton of vegetables – yum!
Find out more about Evie's experience here.