Unsure what products you want to try this Black Friday? Simply overwhelmed by all the great options on offer?
Well, don't panic — we've made it easy with our Black Friday Box.
Try some of our best-selling products and find a new favourite before you take the plunge. From vitamins to protein, we've covered all the bases in the Black Friday Box.
Take a look at everything up for grabs...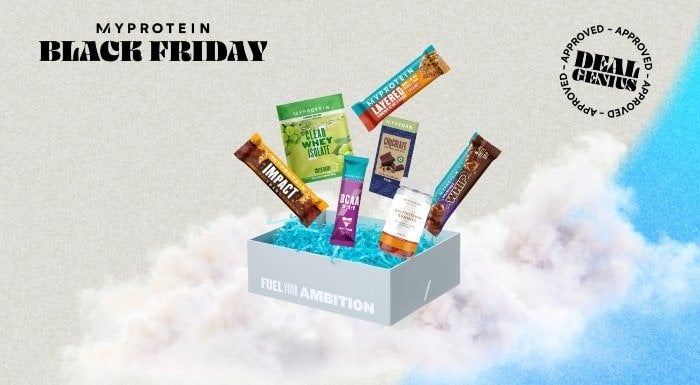 Multivitamin Gummies (30) - Strawberry
Containing a blend of 11 essential vitamins and minerals, these chewable gummies make it super easy to stay topped up on important nutrients — and they taste great too.
With vitamin C to support the immune system and biotin to maintain skin and nails, our tasty gummies will have you glowing from inside and out.
Bursting with strawberry flavour, there's no tastier way to make sure you get all your daily vitamins and minerals.
Clear Whey Protein (Sample) - Green Grape
Winner of "The Best Sports Nutrition Product" at the European Specialist Sports Nutrition Awards 2019, Clear Whey Protein is not any ordinary protein shake.
This refreshing alternative tastes more like juice, for a light alternative to a milky protein shake. Still boasting 20g of protein, 4g of BCAAs and 3g of glutamine per serving, Clear Whey is the ideal option for staying hydrated throughout the day, and still meeting your macros.
Try the Green Grape Clear Whey in the Black Friday Box — a tangy and fruity flavour that's low in sugar and high in protein.
Hazelnut Whip (Sample)
Looking for a unique snacking experience? Enter Myprotein's Hazelnut Whip.
A delicious milk-chocolate covered wafer, brimming with a protein-rich, smooth hazelnut filling, topped off with chocolate drizzle — this treat is bound to be your new favourite.
With 5.2g of protein for 138 calories, it's no wonder this is one of our most popular snacks.
Layered Protein Bar (Sample) - Speculoos
The Speculoos Layered Protein Bar is our most indulgent bar yet.
Combining a rich, soft caramel flavour protein, with a layer of gooey caramel, coated in a smooth caramel flavour coating and topped with cinnamon biscuit crumb for crunch, this bar has every texture and taste you could wish for.
Despite tasting like a sweet treat, this bar has 20g of protein — helping you boss your macros and your sweet tooth.
Impact Protein Bar (Sample) - Caramel Nut
You're new on-the-go snack – the Impact Protein Bar.
Packed with 20g of protein, this bar has your nutritionals covered. And it tastes amazing too. With three layers of caramel, crunchy crispies, and indulgent chocolate, this bar is guaranteed to curb your cravings.
Try the Caramel Nut flavour for a sweet and salty combo that will keep you coming back for more.
Myvegan Vegan Chocolate - Sea Salt
Smooth, rich and delicious — Myprotein's Vegan Chocolate is an allrounder.
Whether your plant-based, dairy free or just fancy mixing it up, this sweet chocolate has 4g of plant-based protein, making it a great place to start.
Try the Sea Salt Vegan Chocolate for the ultimate vegan sweet treat.
BCAA Vimto (Sample)
An everyday blend of essential amino acids, Myprotein's BCAA is your newest go-to to make sure your body is prepared to smash your next training session.
Made up of leucine, isoleucine, and valine, this BCAA aids in building and repairing new muscle, helping you to meet your goals.
And even better — try it in Vimto, a delicious, juicy flavour.
Take home message
Whether you're a protein newbie, or you want to try something new, the Black Friday Box has something for everyone.
Keep calm this November 25th and get the best selection with the Black Friday Box.
Want more Black Friday 2022 info?
READ THESE NEXT:
Our articles should be used for informational and educational purposes only and are not intended to be taken as medical advice. If you're concerned, consult a health professional before taking dietary supplements or introducing any major changes to your diet.