When you're working to be at the top of your game, you shouldn't slack when it comes to supplements. Informed Choice testing means that impurities and banned substances within products are more likely to be spotted before ever reaching you. Products with Informed Choice certification are of the highest standard.
What is Informed Choice certification?
Informed Choice is a global standard in sports nutrition quality control. The retail monitoring process provided by Informed Choice tests products to help further reduce the already low risk that supplements are contaminated. It gives you the extra peace of mind you need as a consumer. So when you buy a product, you know exactly what's in it. With the Informed Choice certification, you can rest easy with very few concerns about the quality of the product.
The benefits
Products are regularly tested for banned substances and contamination from other substances
Customers can be confident in the quality of their supplements
The Informed Choice logo is a badge of absolute quality
All products with the certification demonstrate the highest level of commitment to quality assurance in the sports supplement market
The process
Firstly, the production process is interrogated. It takes an extremely high standard to pass this stage of certification.
Next, products go through pre-certification testing across multiple batches.
Finally, the products go through regular blind batch sampling.
What is the Informed Sport certification?
The Informed Sport certification requires an even more rigorous process. Rather than a randomised approach to testing, every single batch of the product is tested. This means there's a very limited chance that you're the supplements contain banned substances, making it ideal for elite athletes.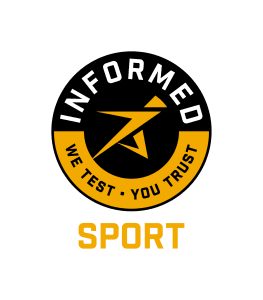 Take Home Message
Train to the best of your ability with Informed Choice products, safe in the knowledge that your supplements are free of any contaminants and banned substances.