Why choose between meatballs and chilli when you can have both?
---
This deliciously rich & meaty recipe from Niall Kirkland is an absolute winner for your dinner. Made with homemade meatballs and a thick chilli sauce that's bursting with flavour, we're pretty sure it'll become a new favourite in your household.
It's ideal for feeding multiple people, but if you're solo self-isolating it'll keep well for your lunches later in the week too.
Serves 4
Ingredients
For the meatballs: 
500g lean beef mince (5% fat)
1 garlic clove (finely chopped)
Salt & pepper to taste
1 egg
40g breadcrumbs
1 tbsp. coconut oil
1 tsp. paprika
1 tsp. cumin
For the chilli:
1 tbsp. coconut oil
1 onion (roughly chopped)
2 bell peppers (roughly chopped)
Salt & pepper to taste
1 tsp. cinnamon
1 tsp. coriander
1 tsp. paprika
1 tsp. cumin
2 garlic cloves (finely chopped)
2 chillies (finely chopped)
2 tins chopped tomatoes
1 mug beef stock
1 tin black beans (drained and rinsed)
2 tbsp. fresh coriander (chopped)
To serve:
Basmati rice
Spring onions (chopped)
Coriander (chopped)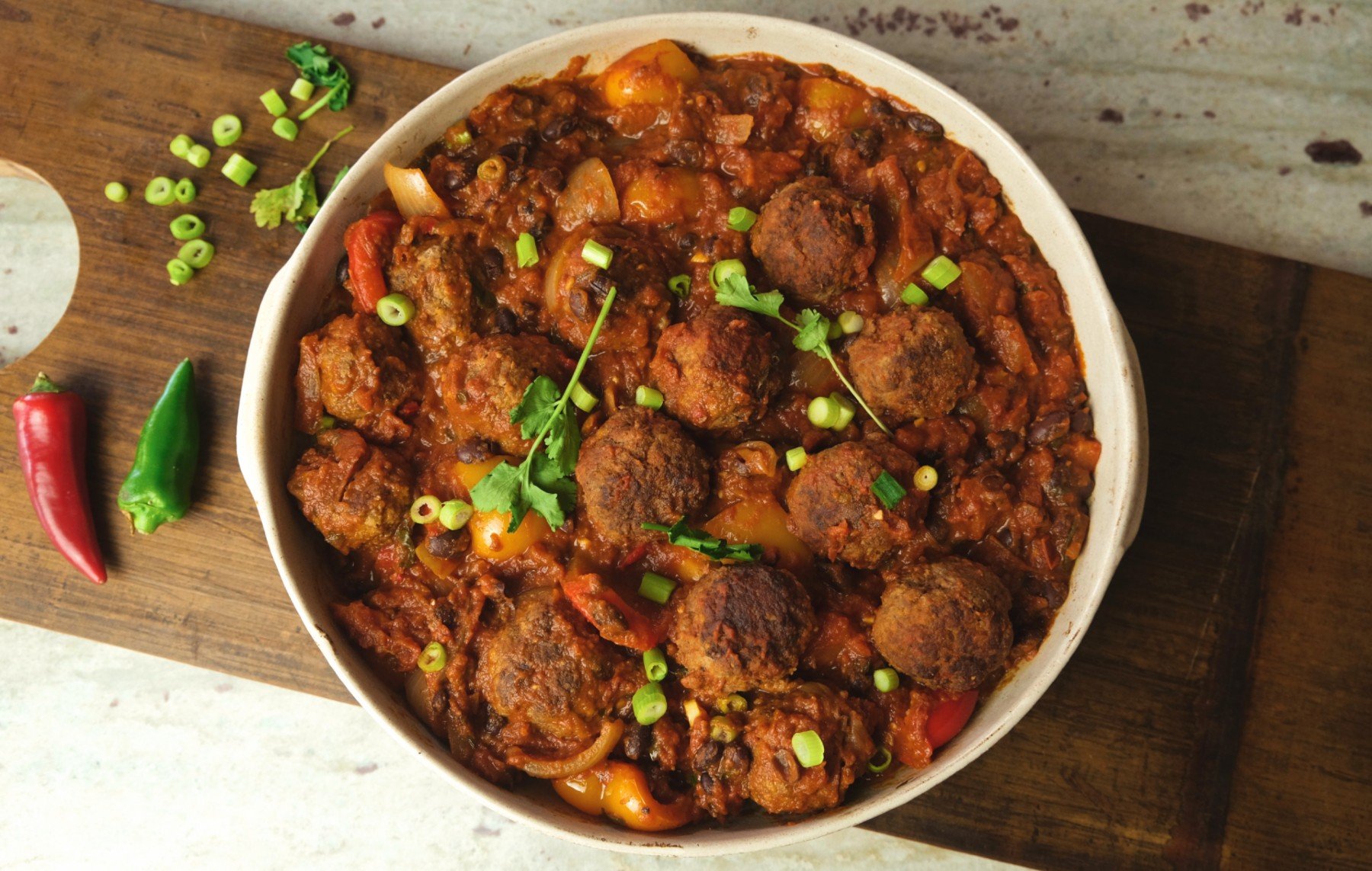 Method
First, add the beef mince, garlic, egg, breadcrumbs, and seasoning to a bowl and mix together to combine.
Then form your meatball mixture into 14-15 evenly sized meatballs. Heat a tablespoon of coconut oil in a non-stick deep pan and add the meatballs.
Add the paprika and cumin to the meatballs and give the pan a shake to coat them in the spices.
Continue frying for 5-10 minutes until brown and crispy on the outside, then remove from pan and set aside.
Heat another tablespoon of coconut oil in your pan and add the onion and peppers.
Add the salt, pepper, and the rest of your spices, and mix well into the onion and peppers. Leave to fry for 10 minutes.
Then, add the garlic and chilli, stir and leave to fry for another 5 minutes.
Now add your chopped tomatoes, black beans, fresh coriander, and beef stock. Give the mixture a stir and leave to simmer for 15 minutes.
Add your meatballs back to the pan and simmer for a further 15 minutes before serving.
Serve with 125g of basmati rice and garnish with chopped coriander and spring onions.