Get ready to make room for this sweet & simple bake.
These delicious blondies from @mikethurston are the perfect treat to satisfy your sweet-tooth cravings without undoing your training progress. They're made with a handful of incredible ingredients and sweetened with agave syrup, which has a lower glycemic index than sugar and won't spike blood sugar levels as much. Ideal if you're trying to cut out those sugar crashes after snacks and desserts.
If you're not usually a baker, don't be put off — this minimum-fuss recipe takes a matter of minutes to prepare. It's basically as easy as putting everything in a blender and switching it on. Yep, really.
Plus, when the result is a batch of blondies that are as irresistibly gooey and moreish as this, it's so worth it.
Makes 8
Ingredients
2 cans chickpeas
100 g gluten-free rolled oats
12 tbsp.

All-Natural Peanut Butter

1/2 cup agave syrup
2 tsp. lemon juice
2 tsp. baking powder
1 cup chocolate chips
Instructions
1.
Preheat the oven to 180C.
2.
Drain and rinse the chickpeas, then place them in a blender with all the rest of the ingredients (except for the chocolate chips).
3.
Pour half of the mixture into a baking tray or ovenproof glass dish and smooth with a spatula or back of a spoon.
4.
Sprinkle half of the chocolate chips on top of the blondie mixture, then cover with the remaining half of the mixture.
5.
Top with the remaining chocolate chips and then bake in the oven for 20-25 minutes.
Nutritional info per serving:
| | |
| --- | --- |
| Calories | 180 |
| Total Fat | 6g |
| Total Carbohydrates | 22g |
| Protein | 6g |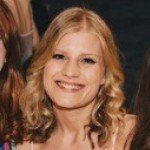 Lauren is an English Literature graduate originally from the South. She's always loved swimming, has discovered the power of weight training over the past few years, and has lots of room for improvement in her weekly hot yoga class.
On the weekends she's usually cooking or eating some kind of brunch, and she enjoys trying out new recipes with her housemates – especially since shaking off student habits, like mainly surviving off pasta. Above all, she's a firm believer in keeping a balance between the gym and gin.
Find out more about Lauren's experience here.