Can't get enough of speculoos? This is the dessert for you.
We don't need to tell you how incredible our Layered Protein Bars are. You've likely tried every flavour, but now it's time to make way for a new favourite. The new Speculoos Layered Bar combines six indulgent layers of taste and texture, with plenty of gooey caramel and crunchy cinnamon biscuit crumb, and only 2.6g of sugar per bar. Even better, each one is packed with 20g of protein too, making them the tastiest way to top up after a training session.
@kirstyfletcher_ has really taken things to the next level with these Speculoos Layered Bar protein cheesecakes. They're perfect for when you want an indulgent-tasting dessert to satisfy your cravings without putting a dent in your daily macros. Made in just a few steps, with no baking or blending required, even a rookie cook could nail these first time. The only thing is they won't last very long once you've made a batch and your family members or housemates get their hands on them. You've been warned.
Makes 6
Ingredients
8 caramelised biscuits
20 g light butter (melted)
30 g light cream cheese
50 g fat-free Greek yoghurt
3-4 drops

FlavDrops (Vanilla)

1/2 tsp. cinnamon
Instructions
1.
First, add the biscuits to a small bowl and crush them into crumbs using either your fingers, wooden spoon, or the end of a rolling pin.  
2.
Next, add in the melted butter and combine to evenly distribute throughout the biscuit crumbs. Set aside.
3.
In a separate bowl, combine the cream cheese, Greek yoghurt, cinnamon, and vanilla FlavDrops. 
4.
Next, chop the Speculoos Layered Bar into small chunks. Add half to your cheesecake mixture and keep the rest aside for later.
5.
Line a cupcake tray with six cases and spoon the biscuit mixture evenly into each case. Flatten with the back of a spoon to create your cheesecake base.
6.
Then, spoon the cheesecake mixture onto each base and top with the remainder of your Layered Bar chunks.
7.
Place in the fridge for 3-4 hours, then once they're set, brace yourself for a bite of heaven. And then try not to eat the other 5 straight away.
Nutritional info per serving:
| | |
| --- | --- |
| Calories | 160 |
| Total Fat | 7g |
| Total Carbohydrates | 15g |
| Protein | 8g |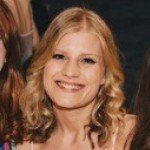 Lauren is an English Literature graduate originally from the South. She's always loved swimming, has discovered the power of weight training over the past few years, and has lots of room for improvement in her weekly hot yoga class.
On the weekends she's usually cooking or eating some kind of brunch, and she enjoys trying out new recipes with her housemates – especially since shaking off student habits, like mainly surviving off pasta. Above all, she's a firm believer in keeping a balance between the gym and gin.
Find out more about Lauren's experience here.