Scrolling through Instagram, staring at post after post of society's distorted version of perfection, it's clear we need some body-positive, REAL people to populate our feeds.
As summer approaches and skimpier clothes often leave body confidence at an all-time low, it's time to hear from a strong advocate for self-love and living life to the full.
Meet Corinne — Myprotein ambassador, surfer, blogger, and new mum.
Scrolling through her Instagram profile, you're hit with the progressive self-confidence this girl has. Her honest and relatable captions mean she's someone you can truly admire — a scroll through her feed is truly nurturing for the soul.
We're desperate to emanate Corinne's effortless beachy look and radiant smiles. Let's find out more about this surfing super mum…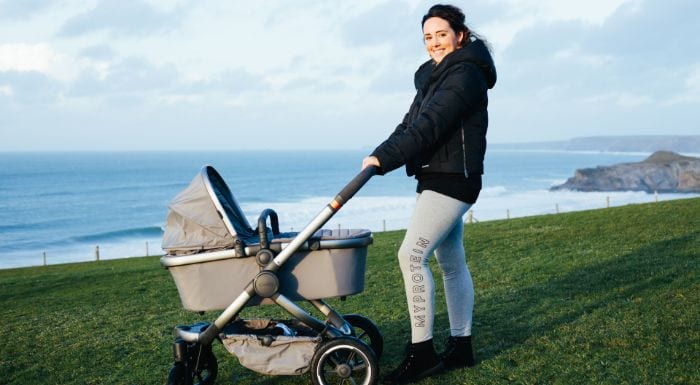 From a young age, Corinne knew the importance of an active and balanced lifestyle. She says, "I danced which taught me the importance of staying active, flexible, and strong. My parents always made me very aware of how important it was to eat a healthy diet. I guess that's something that's stuck with me and has been something I live by."
Moving to Cornwall at age 11, Corinne started surfing in her teens, but it took some perseverance before she began to really get something out of it.
"I found it quite intimidating, especially as a female. Once I got hooked on surfing, I knew I didn't want to do anything else."
Not letting her insecurities get the better of her meant that Corinne discovered her true passion and calling in life. "I made it my goal to travel, surf, and work within the industry — and that's precisely what I did."
Corinne's now the assistant editor of a surfing magazine, and also shares her passion through her blog and stunning Instagram feed.
"I had times when I would look in the mirror and see only flaws."
Despite her awesome career and positive mantra, Corinne has still struggled from time to time with her own body image, proving that no one's immune.
"Before pregnancy, I had major body hang-ups. I had times when I would look in the mirror and see only flaws, as many of us do."
This all changed in the later stages of her pregnancy, "I just looked very bloated for a long time, but once my bump grew, I felt terrific. I felt so body confident."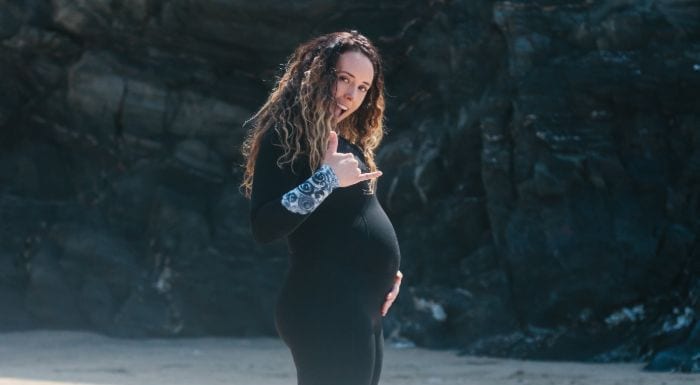 Corinne's matter-of-fact attitude when it comes to her body image has definitely helped her come to terms with all these big changes. By making self-love a priority, these insecurities have never taken over her life — something that's been brought even more to the forefront with the birth of her son, Albee.
As a part of this priority, she also tries hard to use social media as a platform to push body confidence and a supportive environment for herself and others.
"I have curated a social media feed that inspires me, motivates me and leaves me feeling empowered, which is exactly how I want to leave my followers feeling."
"I love honest Instagram accounts and avoid the accounts that leave me feeling full of self-doubt. Social media hasn't impacted my body perceptions as such — it's just made me more conscious about what I post."
"I no longer care that I don't have a six pack or thigh gap."
Corinne was disheartened by her lack of strength after giving birth, but it completely changed how she viewed her own body.
"My postpartum body surprised me a lot. I didn't gain too much weight, but I felt weak, which is what I struggled with the most. It didn't bother me how I looked after childbirth, but I hated the way I felt. All my strength seemed to disappear."
"I now look at my body in a completely different way. I no longer care that I don't have a six pack or thigh gap. I'm proud that my body grew my son, gave birth to him, and continues to allow me to surf and exercise. I love my body and feel more confident than ever."
Many women worry about losing their pre-baby figure, or the struggle to get it back when you have less time, but Corinne seems to have come to terms with this already. She explains, "Your body will change — it's meant to — but embrace those changes. Love your body and take each stage as it comes."
"It took the best part of a year to grow your baby, and it will take the best part of a year for your body to recover."
This patience and acceptance is something we can all learn from, whether you're a mum to be, or simply working towards your body goals.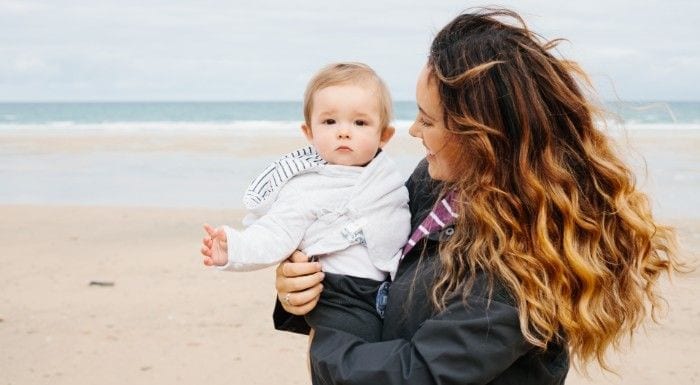 Having Albee didn't just change her body, but her entire life. "I'm no longer number one. Albee comes above everything else, which is how I want it to be, but that doesn't mean it's easy."
Any parent will know that juggling a job with looking after a baby is full on, before you even begin to consider time for yourself or exercise. There are so many other things Corinne has had to put before this.
"I found breastfeeding hard and ended up in hospital…"
"I completely adore being a mum. It's by far the greatest thing I have ever done and I can't imagine not having Albee in my life. It's been a rollercoaster of mind-blowing moments to pure frustration. It's one of the hardest jobs I've had, and it comes with no rule book or manual to follow."
With there being so much talk out there on the best way to parent, it's easy to feel inundated with unwanted advice and opinions, but Corinne is open about the good stuff as well as the tougher times.
"I found breastfeeding hard and ended up in hospital due to multiple infections. I found sleep training extremely exhausting, but rewarding when it worked. All of that said, getting to hear Albee laugh or watching him learn how to clap completely erases the memories of the 2am wake-ups!"
Putting yourself second (even when you want to) can mean that making time for yourself and a fitness routine can go out the window, but Corinne's found ways to overcome this to build back her strength since having Albee.
"As soon as I could weight train again and surf consistently, I began to feel as fit, if not fitter, than I did before having Albee."
She's found that by building small aspects of self-care into her life, she feels more like herself too. She explains, "I always make sure I eat well. I snack more on fruit and nuts to keep my energy levels up. I don't go anywhere without my water bottle, and try not to drink too much coffee — this is really hard!"
"I now invest more time into my hair and skincare. The last thing I wanted was to look as tired as I felt!"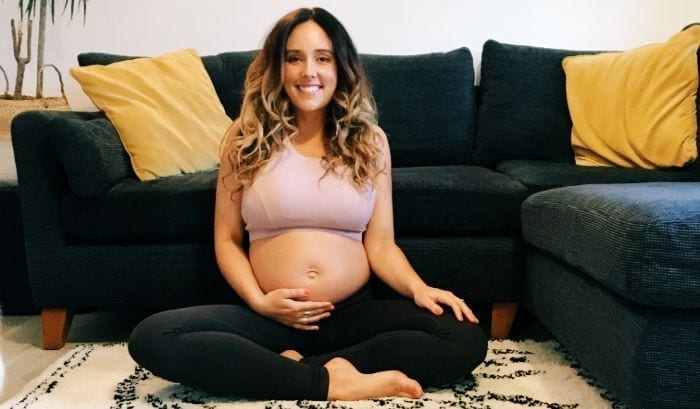 As for making time to reach those goals, Corinne has great advice for new mums too.
"At the start, it'll feel so overwhelming like you'll never have any time for yourself, but it will change. There will be time for yourself, and you will be able to make the time. Don't be hard on yourself, eat well, put that face mask on and relax."
"I want people to see my posts, read the captions, and relate — even if it's just in a small way."
Corinne's a big believer that exercise in any form is better than nothing and so she takes hold of every opportunity. "I try to get outside once a day for a walk on the beach or cliff tops. It helps to clear my mind and also gives me a bit of quiet time, which is always needed."
"I have to make time for myself and grab any small window of opportunity I get to work or exercise. I have a lot more to juggle now, but it's incredible how quickly you adapt. I find myself asking "what did I do with all my free time before becoming a mother?""
Exercising for a specific type of body can become an unhealthy obsession, so Corinne's reasons for working out are refreshing and completely relatable to anyone who's experienced that rush of endorphins.
"Being healthy and exercising makes me happy. If I have weeks when I don't exercise and my diet isn't great, then it makes my mood dip and can result in me slipping into a negative headspace. This isn't so different to how I lived my life pre-baby."
She still makes time for her first love, surfing, too. Working as a team with her husband means that they both get time out to do the things they enjoy.
"It's still a very important aspect of my life, and so when I can surf, I do. It's nowhere near as much as before, but I really appreciate the times that I do get in the water. I love them more than I did before becoming a mum. I have a really supportive husband who also surfs, which means we tend to trade off on surfs, so we both get time in the water."
"I always want to be honest and true to myself and talk about how I am feeling at that moment in time."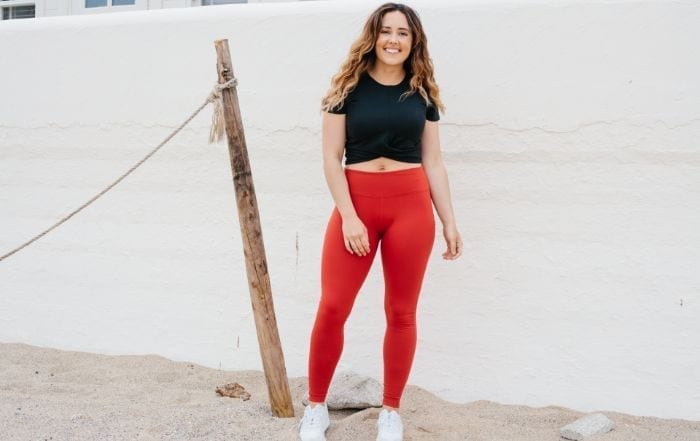 Despite Corinne's cool, collected, and accepting nature, she's still been faced with surprises since becoming a mum.
"I didn't expect to cry as much as I did — happy tears, sad tears, and tears for no reason! Around a week into motherhood, my husband bought me a pair of really cute cosy socks to wear when I had to get up to breastfeed in the night — he knew I got cold feet. I remember him handing them to me as a gift and I just burst into tears!"
She uses Instagram to bring out more of this real stuff that you can really relate to.
"I always want to be honest and true to myself and talk about how I am feeling at that moment in time. My goal behind my posts is to either inspire, motivate, or get women talking about body positivity and more recently postpartum body image."
I never want to airbrush the truth — I always want to be authentic and relatable to anyone that engages with my posts. I want people to see my posts, read the captions, and relate — even if it's just in a small way."
In a world full of filters and photo editors, Corinne offers a genuine and authentic view of a woman and new mother whose old life and new life must now somehow muddle along together. It looks like she's doing a pretty awesome job of it too. Her amazing outlook on life and self-love is nothing but inspiring and filled with the kind of contentment that we should all be aiming for.
For more wonderful updates on Corinne and her new family, check out her Instagram here.