The Mediterranean diet has a great reputation and for very good reason. This type of diet originates from the countries bordering the Mediterranean Sea including Portugal, France, Italy, Spain and Greece. Over the last few years, it has really taken the spotlight as its high healthy fat content and emphasis on oily fish provides a multitude of health benefits – from a healthy heart to shiny hair and glowing skin. 
Our bodies need healthy fats and in today's society where emphasis is often put on convenience and not health, many people are deficient in these healthy fats. 
 Jump to:
The Benefits of the Mediterranean Diet
Heart Health
Following the Mediterranean diet has been shown to reduce the risk of heart-related health problems.1 This is likely due to the combination of heart healthy fats, fibre, and limited amounts of animal protein in the diet. 
Brain Health
Research has also shown a link between the Mediterranean diet and cognitive health, protecting connectivity in tissues that slow age-related brain decline.2

Weight loss
Following the Mediterranean style diet showed the same weight loss as a low carb diet, and even greater weight loss than a traditional low fat diet plan.3

Prevent damage from inflammation and free radical damage
Between heart healthy fatty acids, high fibre, and antioxidants, the nutrients in the Mediterranean diet can protect against harmful cell damage.5

The Mediterranean Diet Foods
Although the dishes vary in different countries that follow this approach to eating, they all include an abundance of plant-based foods such as; 
Fruits and vegetables

 

Legumes

 

Wholegrains

 

Healthy fats are also incorporated into the diet, such as;

 

Olive oil instead of butter

 

Nuts

 

Fish
These fit well into the healthy eating recommendations from the government as the Mediterranean diet is packed with nutrients that promote great health and balance. 
Foods to Avoid on the 
Mediterranean
 Diet
Refined grains
White bread

 

White rice

 

Pasta
Try to choose high fibre, low GI wholegrains instead.
Highly processed sugars and baked goods
Cookies

 

Cakes

 

Sweetened drinks
While all foods can be included in small amounts, these sweet foods have a negative impact on heart health and blood sugar. Try to choose fruit and red wine instead. 
Saturated fats
Butter

 

fatty meats (like beef and pork) 

 

Fried foods

 
The animal-based fats that are typically solid at room temperature are bad for heart health.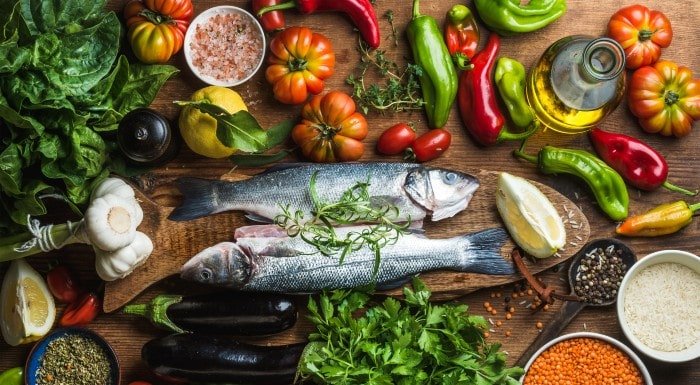 One-day Mediterranean Meal Plan
Breakfast – Overnight oats with omega seed mix and berries
Ingredients 
Method 
Place all the ingredients in a Mason jar and mix well making sure the top is well covered.

 

If your jar lid has holes in it, cover the jar with Clingfilm.

 

When it is mixed well, leave in the fridge for a few hours to allow it to thicken.

 
Macros 
Calories: 262

 

Carbs: 41g

 

Protein: 11g

 

Fat: 6g

 
---
Lunch – Spinach Frittata with side salad
Ingredients 
120g High Protein Low-fat Cheese

 (grated)

 

300g Mushrooms

 

15ml Olive oil

 

150g Onions

 

500g Spinach

 

20g Parmesan cheese

 

6 Whole eggs
Method 
Grease a pan with olive oil including the sides of the pan. Take a tablespoon of oil and heat it in the pan, then add the mushrooms and sauté them for around five minutes so that they are soft.

 

Add some more oil then add the onions and the spinach to the pan. While these are cooking, mix all the eggs together in a bowl.

 

Put some cheese in the pan on top of the spinach and pour the egg mixture on top of this. Don't be afraid to move the vegetables around a bit so that the egg gets into all the nooks and crannies of the pan to hold the frittata together!

 

Cover the pan with a lid and reduce the heat. Cook for a further 15 minutes, then remove the lid and place the pan under a grill to finish cooking the eggs fully at the top. You can sprinkle extra cheese on if you like, just make sure you add this into the macros. This will take a further 6 minutes before you can remove from the grill.

 

Allow it to cool for a few minutes then cut into six slices. Serve with a side salad.
Macros per slice 
Cal: 178

 

Carbs: 6.5g

 

Protein: 17g

 

Fat: 13g

 
---
Dinner – Salmon with roast vegetables and quinoa
Ingredients 
Lemon

 

Salmon fillet (125 g)

 

100g Carrots chopped into sticks

 

200g Sweet potato cubed

 

20ml Olive oil

 

100g Quinoa

 

Stock cube

 

Herbs
Method 
Wrap a salmon fillet sprinkled with lemon juice and garnished with some lemon slices in tinfoil, prepare the quinoa by rinsing the seeds well, before setting them aside in a bowl.

 

Boil some water and dissolve a stock cube. Use this mixture to cook the quinoa for around 30 minutes until the liquid has been absorbed.

 

Preheat an oven to 180. Toss the vegetables in olive oil mixed with herbs. Place in the oven for 20 minutes and cover with tinfoil to avoid them going too brown.

 

After 20 minutes add the salmon in foil to the oven and remove the foil from the vegetables. Bake everything for a further 20 minutes. Check the salmon is cooked through by cutting in half and remove and serve with quinoa if it is done.

 

100g of raw quinoa tends to equal nearly 350g-400g of cooked quinoa. You can reduce this portion if you like and keep any leftovers in the fridge for the next day.
Macros  
(with 180g cooked & measured quinoa) – feel free to reduce/split in half for lunch to reduce macros! 
Calories: 840

 

Carbs: 84g

 

Protein: 36g

 

Fat: 40g

 
---
Mediterranean 
Snack Ideas
High-Protein Fruity
'n'
C
runchy Yoghurt
Ingredients
200g Greek yoghurt

 

100g Peach slices

 

25g Almonds

 
Method 
Simply add the almonds and peaches to the Greek yoghurt and serve.

 
Macros
Cal: 298

 

Carbs: 18g

 

Protein: 25g

 

Fat: 14g

 
---
Homemade Hummus & Carrot sticks
Ingredients
3 Cloves garlic

 

400g Chickpeas

 

80ml Lemon juice

 

60ml Olive oil

 

Pinch pepper

 

Pinch of salt

 

10g cumin

 
Method 
Remove the skin from the garlic and place in a blender with all the other ingredients.

 

Blend until the desired texture is reached and serve with carrot sticks!

 

Keep any leftover covered in a fridge, it will last about two days.
Macros per serving 
(Serves 4) 
Calories: 241

 

Carbs: 16g

 

Protein: 7g

 

Fat: 16.5g

 
Take Home Message
The Mediterranean style eating plan is unique in the wide range of benefits that it offers without being overly restrictive. Whether you want to limit junk food, follow a more plant based diet, lose weight, or improve your heart health – all of these can be achieved with a Mediterranean diet. The flexibility and lack of complete elimination of food groups makes this diet not only achievable, but sustainable.