Oat milk is one of the most popular dairy-free milk alternatives on the market today. Because it is a nut-free vegan milk alternative, it can be a suitable substitute for anyone with lactose, soy, or nut allergies. It is also very environmentally friendly – not only is it vegan (no animals are used), but making oat milk requires less water and other resources than making similar nut milks.
Jump to: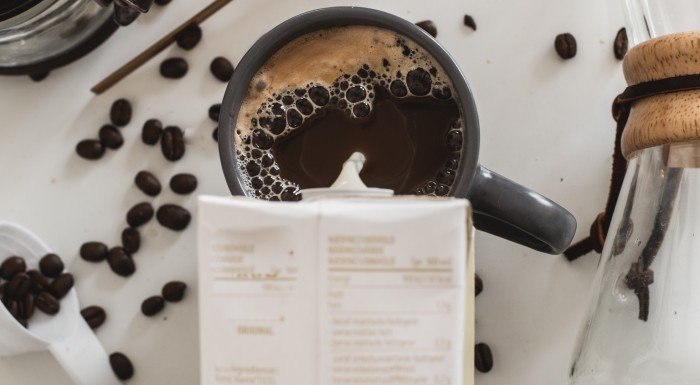 What is Oat Milk?
Oat milk is one of the latest substitutes for cow's milk. Because it is made from a grain, it is dairy free and vegan friendly. Oat milk is made from soaking steel-cut or whole groats (think unprocessed oats) in water, blending, and straining out the resulting liquid. While nut milks are made in a similar way, oats are more soluble and absorb more water – when the mixture is strained, more of the nutrients from the oats remain in the milk than similarly processed nut milks. 
Because oats are such a nutritional powerhouse, oat milk contains protein, fibre, and vitamins and minerals. While some of the nutrients are left behind in the solid pulp that is created from blending and straining the oats, soluble fibre remains, containing beta-glucan. Oat milk contains B vitamins and is often fortified with vitamins A & D, calcium, and iron (in addition to the amount that naturally occurs in oats).
The Nutrients in Oat Milk
Oat milk is rich in both macro and micronutrients. While the nutrition profiles vary between flavours and companies, according to PlanetOat.com, their original oat milk contains 90 calories, 2 grams of fibre, and vitamins A, B12, D, calcium, iron, and potassium. 
Oat Milk Macros
Macro (1 cup Planet Oat original milk)

 

Amount

 

Carbs

 

19g

 

Fat

 

1.5g

 

Protein

 

2g

 
Oat Milk Micronutrients
Some of the micronutrients are naturally occurring, others have been added for fortification.
Micronutrient (1 cup Planet Oat original milk)

 

Amount

 

Fiber

 

2g

 

Vitamin D

 

4mcg

 

Calcium

 

350mg

 

Iron

 

0.3mg

 

Potassium

 

400mg

 

Vitamin A

 

180mcg

 

Vitamin B12

 

0.2mcg

 
Health Benefits of Oat Milk
The health benefits of oat milk make it a great addition to any healthy diet plan.
It is vegan and low in allergens
Not only is oat milk dairy and lactose free, it also contains no soy, peanut or tree nut allergens, which are very common in many other alternative milks. It is also often gluten free; however, this depends on the way the oats are processed, which is an opportunity for some cross contamination from other grains that contain gluten, so always be sure to double check if you have a gluten intolerance.
It is nutritious
Not only is it a good source of B vitamins (due to its whole grain origin), most oat milks also contain added vitamins A, D, and calcium. These nutrients are essential for many of the body's processes. Oat milk also contains more fibre and protein than similar nut or rice milks.
It can support a healthy heart and metabolism
Oats are known for their fibre content, which can help lower cholesterol.1 Beta glucan is a soluble fibre that is preserved in the processing of oat milk, making it a heart-healthy alternative that is unique among other non-dairy milks. Beta-glucan can also support healthy blood sugar levels, boost immunity, and help maintain body weight.1 
It is good for bone health
Although the calcium in oat milk is added in, it is important to choose a milk-alternative that supports bone health. The additional Vitamins A and D also support healthy bone metabolism.2 While vegans or those with lactose intolerances might have once missed out on these nutrients, oat milk provides well rounded nutrition no matter your dietary needs.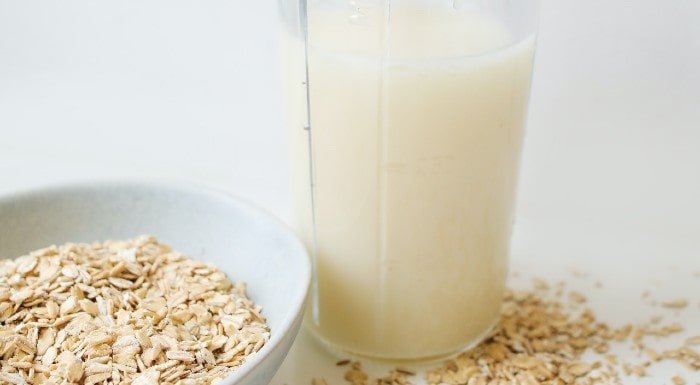 Are there any Negatives of Oat Milk?
The potential negatives of oat milk are few, but worth considering. 
Calories and carbs: oat milk is higher in calories than almond milk or some other alternative milks. This is only a negative if you are limiting your carbs and calories – both are essential for muscle growth and recovery.

 

Added sugar: many varieties of store-bought oat milks have added sugars for 

flavour

. You could make your own at home without sweetener, but then you would miss out on the fortified vitamins and minerals.

Potential gluten: based on the type of oats and processing in the oat milk you choose, it may or may not be gluten free. If gluten is important for you to avoid, make sure you read the labels carefully.

 

Cost: because oat milk is gaining popularity, it may be more costly than some other shelf-stable non-dairy milks.
Take Home Message
So is oat milk good for you? If you're looking for a healthy alternative to cow's milk, oat milk is a great creamy option.
While there are many kinds on the market, look for a choice with minimal added sugar and adequate calcium and vitamins. It can support overall health and provide a boost of fibre and macros in your shakes and smoothies.