With an estimated 33% of the world's population regularly participating in some type of sports activity, and the sports events market projected to be worth $9597m in 2020, there's no denying that the world has a long-held affinity for sports.
From the Olympics to Wimbledon to the FIFA World Cup, global sporting events have often been the centre for cultural connection, helping to support communities and boost the global economy. Sports and recreational physical activity are also a high driver not just of physical health and well-being, but also positive mental health too.
But which country boasts the greatest athletic prowess?
Keen to discover the world's sportiest country to date, we investigated the various sporting achievements of over 150 countries to see who comes out on top.
By comparing countries' historic Olympic success, elite sport performance and general sports participation rates, we were able to gain an insight into the attitudes and aptitudes that dominate the sporting industry.
Here's what we found:
Australia comes top as the world's sportiest country
Taiwan is the most recreationally active country
USA ranks highest for Olympic and elite sporting success
Football ('soccer') was the most universally practised sport
Europeans prefer outdoor sporting activities like cycling and swimming
The results are in: Australia is the world's sportiest country!
Ranking in the top 10 for elite sports performance and boasting one of the highest participation rates in recreational physical activity, Australia comes out as the world's sportiest country.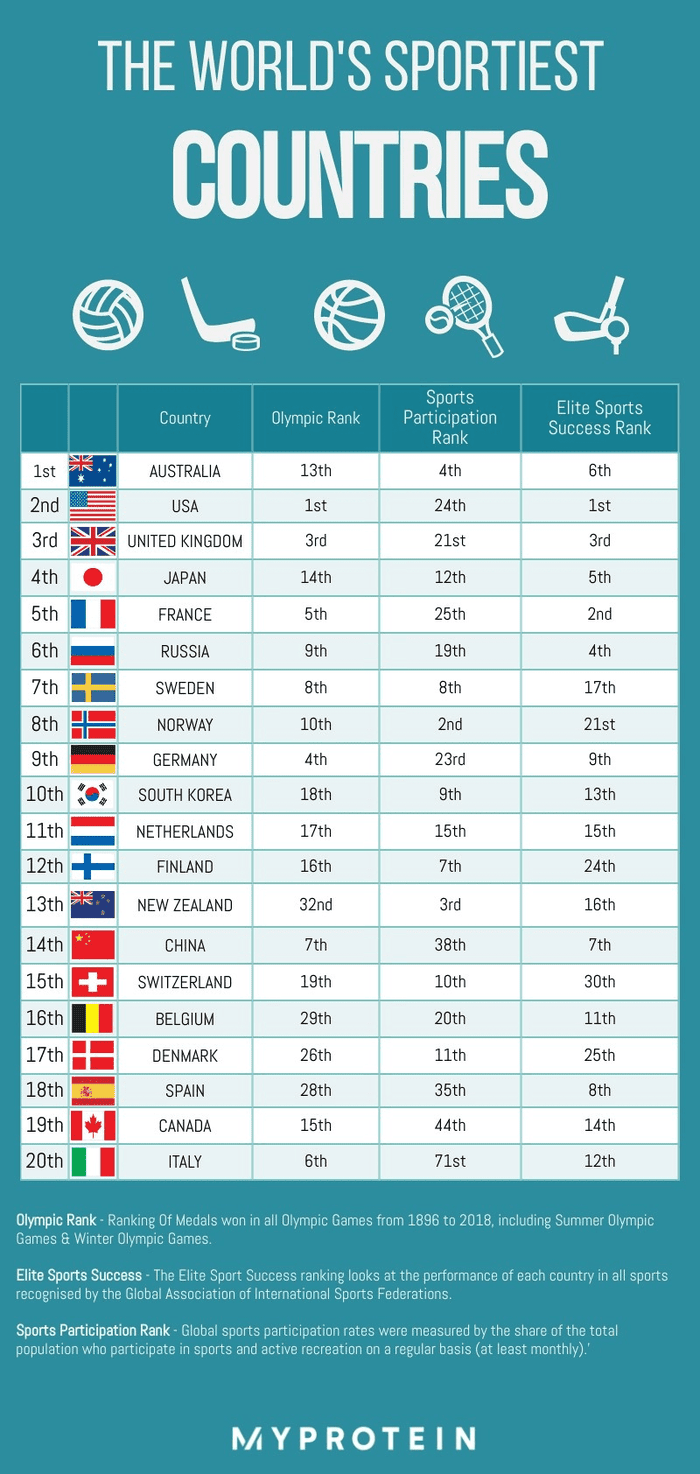 Both Australians and New Zealanders are very physically active, with sports and active recreation participation rates exceeding 75%.
Australia also ranked 12th for Olympic performance, with a total of 512 medals (including 152 gold), having broken records in 2012 for the men's 50km walk and women's 100m hurdle.
When it comes to their elite sport success, Australia moved up two places last year in the World Ranking of Elite Sport Success, placing 6th with a total of 684,701 points.
Following closely in the final list is the USA, which ranks first in the world for both Olympic performance and elite sport success. Boasting a total of 2,828 medals, of which 1,127 are gold, and a whopping 12 world records, this country really blows all other competition out of the water. However, when it comes to participating in sports and active recreation on the regular, US citizens fall short - ranking 24th with a 51.5% participation rate.
The UK ranks third in our table, thanks to its impressive footing in Olympic and elite sports rankings. With a total of 883 Olympic medals, including 274 gold, the country ranked third for Olympic success as well as sitting in the third top spot for elite sport performance. Like the United States, however, its general interest in sports participation prevented it from grabbing the top spot, with a participation rate of just 54.1%.
USA the highest performing country in sporting events
It's probably no surprise that when it comes to competition, the USA dominates the global sporting arena.
This could be due to there being a more serious focus on professional sports, with athletic talent valued from an early age, and a huge number of iconic sports colleges ready to nurture the next generation of sporting stars. While sports may not always be the first activity of choice for Americans to do for fun, those that show a natural aptitude are often provided with a number of options to turn their hobby into a full-time career.
Of course, the world's sportiest country isn't just one that possesses the right physical abilities, but a genuine interest as well. That's why Australia – while not topping the charts in competitive sport - scores a lot of points for its all-round participation and passion.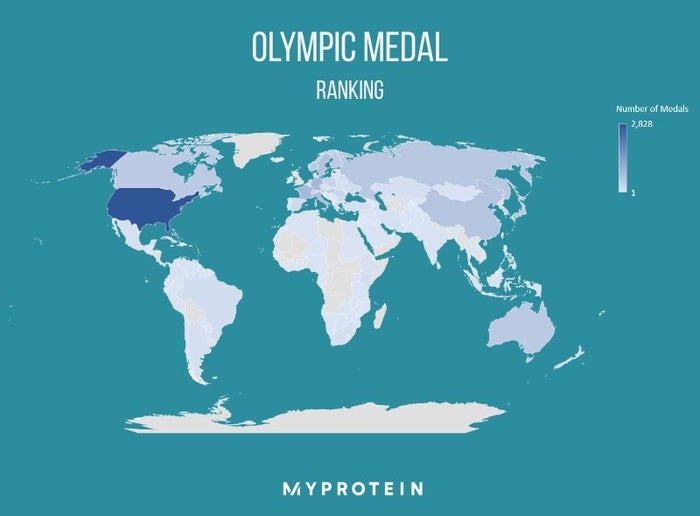 Taiwan the most recreationally active nation
Taiwan comes out as the most recreationally active nation, with a participation rate of 80.7%. They are followed by other small, wealthy and well-developed countries such as Norway, who has a participation rate of 79.2%, and New Zealand, with 79.1%.
Despite these countries' keen interest in recreational sports, this doesn't seem to carry over to their Olympic performance, with the countries ranking 70th, 13th and 37th respectively in our Olympic rankings. When it comes to the World Ranking of Countries in Elite Sport, none of these countries rank in the top 10. This could be due to there being less of a focus on sports as a professional career and more on enjoying sports for fun, whether it be spectating or participating.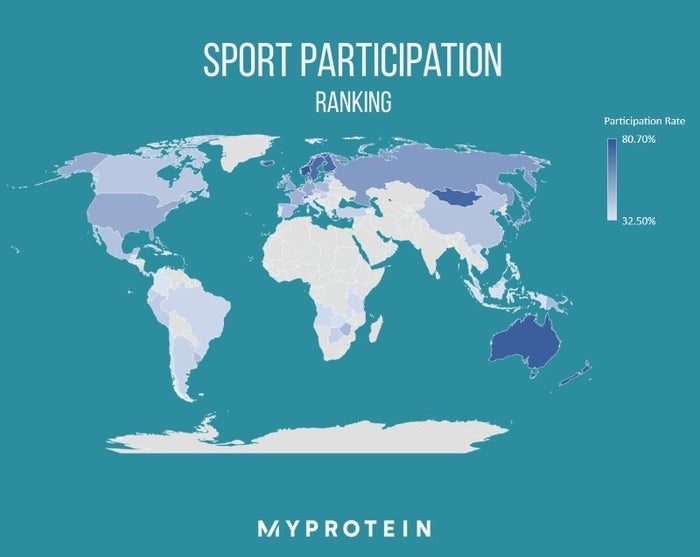 Football (soccer) is the most universal sport
Amongst all participations surveyed worldwide, walking for fun or exercise was the most popular type of recreational activity, with 40-50% of participants naming this as their go-to.
This was followed by jogging or running (15-20%), soccer, a.k.a football (12-20%), cycling and swimming (8-12%), martial arts (4-6%) and dance (3-5%).
Europe has the highest average participation rates for outdoor recreation activities such as walking, cycling and swimming, while these same activities (along with dance) are less popular in the Middle East. For Latin America and the Middle East, soccer was the most preferred activity, which also happens to be the most 'universal' sport as it appeared in almost every country's sports participation survey.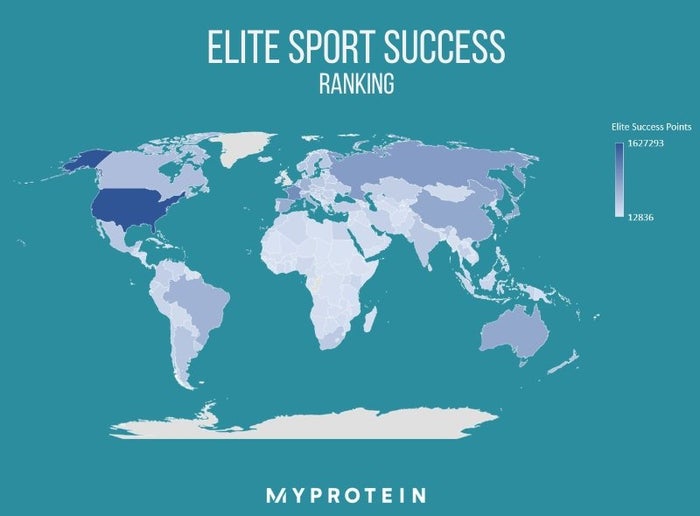 Take Home Message
In the end, it's the land down under that tops the charts for world sporting success.
Whilst some may regard the USA to be the sportiest country due to its competitive achievements, it's important to take into account the level of interest and participation shown in sports on a day-to-day basis.
Whether it's smashing world records at the Olympics, creeping up the Elite Sports Success table or making sports a recreational priority, Australia seems to have its sporting game covered from all sides.
Methodology
We looked at 150+ countries and gave each one a normalised score based on their Olympic success rank, sports participation rank and elite sport success rank.
Countries' Olympic success rankings were determined by a structured points system, with a set number of points being awarded for the number of bronze, silver and gold medals a country had earned to date.
Sports participation rates were obtained from the Global Wellness Institute's 'Global Economy of Physical Activity' report 2019. The report measured participation rates by the share of the total population who participate in sports and active recreation on a regular basis (at least monthly). Types of sports played (and included in survey questions) varied widely from country to country to allow for cultural relevancy. Examples of sports and active recreation could include walking for exercise, running and jogging, cycling, swimming, soccer, martial arts or dance (which were the most popular activities mentioned by participants surveyed).
Each country's Elite Sport Success rank is based on their international results in all sports, as recognised by the Global Association of International Sports Federations.
Enjoyed this article?
READ THESE NEXT: