Having the wrong gym gear on can really kill your workout vibe. You need to feel comfortable, supported, and confident in whatever you're wearing at the gym so you can fully focus on your workout.
Anyone who's spent leg-day unwittingly wearing see-through leggings will understand the importance of squat-proof leggings. But it can be tough to know exactly which leggings to put your trust in.
That's why we're here to make choosing your next pair of leg-day leggings easier, with a little help from you and your reviews...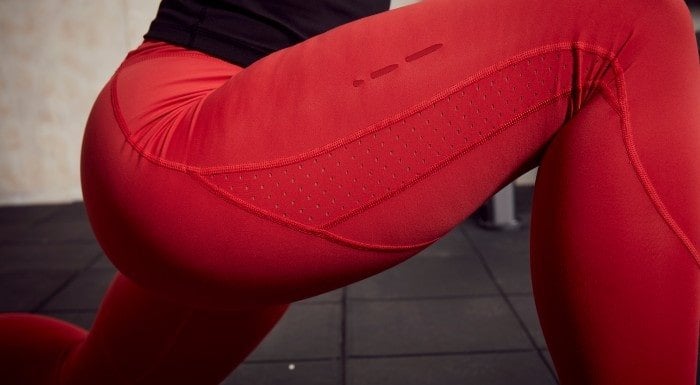 1. Curve Leggings
Seamless, sweat-wicking, body hugging, and perhaps most importantly, squat proof.
The Curve Seamless Leggings are a classic. With loads of colours to choose from, a high waistband, and enhanced coverage, you'll walk into the gym feeling "amazing".

2. Composure Leggings
Our yoga collection Composure might not be suited for heavy lifts in the gym, but in order to comfortably move through your yoga class, you'll still want your leggings to be squat proof.
Luckily, these leggings are just that. The soft four-way stretch fabric keeps you covered, and the high waistband gives you just the right support.

The Power Ultra collection is all about light and soft yet durable and opaque fabrics. So it's no surprise the Power Ultra leggings don't fail you on the squat-proof front. The high waist is flattering, the fabric is durable, and the gussets have been improved even further for added mobility.
And the material won't go "bally" either!

The Power Mesh Leggings feature a double-lined back panel and supportive fabric to make sure you're comfortable and covered throughout your session. And if that's not enough, they're also treated with a hydrophilic finish to ensure sweat is wicked away and you remain dry throughout your workout.
But proceed with caution; if you're anything like this customer, you might end up buying three or four pairs.

The clue is in the name — Essential. 
Sweatproof, supportive, and of course, squat proof. These are those reliable leggings that you always come back to. The perfect companion for a range of different workouts, they're a bit of an all-rounder and will have you squatting with confidence.

The Adapt range is designed with durability in mind to support you through the toughest workouts.
Featuring a four-way stretch fabric, a comfortable waistband and supportive panelling, the Adapt leggings are made with functional fabrics designed to last. The panelling contours the body and keeps you feeling supported throughout your workout, providing both style and comfort.
They may feel lightweight, but they're squat-proof.

7. Repreve® Tempo Leggings
The Tempo range is designed for HIIT training but will support you through any workout. The high-interlock knit fabric ensures you'll be able to squat with confidence, while the mesh ventilation areas help to keep you cool throughout your session.
These leggings are kinder to the planet too, made from 83% Repreve® fabric, which is made from recycled plastic bottles.
And they've been certified as "fabulous" by this customer.

8. Training Reversible Leggings
The Training Range is all about activewear that gets the job done. And these leggings do just that.
The reversible design means you can have two different styles in one pair of leggings. They feature a supportive high waistband and soft, comfortable fabric. Great for rest days and leg days alike.
Although if you're on the shorter side you might want to roll them up a touch at the ankle...

Did someone say heatwave? For those few precious days of good weather we get in the UK, you've got to be prepared with some reliable pairs of gym shorts that'll see you through a sweaty leg day. The Shape Seamless Shorts have your prayers answered.
Featuring a high supportive waistband, a mid-length leg and sweat-wicking fabric, these tick all the boxes. And yes, if they've made it to this list, we, as well as our customers, can say they are squat-proof certified.

If you fancy shorts that are a little on the longer side for a bit more coverage while still keeping cool, the Power Cycling Shorts are your best friend. With a movable, stretchy material and a length that comes just above the knee, these shorts won't limit your range of movement and won't betray you when it comes to squats — keeping you totally covered.

Take home message
You don't want to be distracted mid-squat with the worry that you're leggings aren't covering as much as you'd hoped they would. So stocking up on some reliable leggings is essential to give you peace of mind and confidence.
We hope we've introduced you to your new favourite pair of leggings, but if not, these are only our top 5. Have a browse through the rest of our clothing to find the gym fit of your dreams.
Want more style tips?
READ THESE NEXT: