Looking for an easy, on-the-go snack that'll help you hit your protein goals?
Sometimes, when you're in a rush, it can be easy to reach for something not-so-macro-friendly — especially if you're starving in the train station and that share-sized packet of crisps is just screaming your name…
Well, with these 3 super-simple, incredibly delicious high-protein snack ideas from @emthenutritionist, you can be better prepared.
Each one is tried and tested by the team to make sure it really lives up to the portable promise. They've survived morning commutes, long car journeys, and even an overseas flight.
They're also all under 200 calories per serving and pack in a minimum of 8g of protein. Absolute win.
1. Frittata Loaf with Feta
This frittata loaf is just perfect for satisfying those savoury cravings. Made with plenty of eggs for a helpful boost of protein, it's also loaded with a killer combination of some of the best flavours out there. Yep, I'm talking sundried tomato, spring onion, and feta. Now that's a top tier snack.
Having a slice of this in your bag will immediately make any journey twice as good. Fact.
Serves 6
Ingredients
2 spring onions (finely chopped)
1 red pepper (diced)
50g feta (crumbled)
6 sundried tomatoes (diced)
6 eggs (beaten)
300ml egg white
Method
First, preheat the oven to 180C.
Next, dice the vegetables and then add them to a large bowl along with the beaten eggs, egg whites, and crumbled feta. Stir to make a well-combined mixture.
Pour the mixture into an oiled non-stick or lined loaf tin. Bake in the oven for 20-30 minutes or until set all the way through.
Allow to cool before slicing into 6 even slices.
Keep in the fridge in an airtight container for 3-4 days, ready for on-the-go snacks.
Nutritional info per serving:
2. Chewy Half-Baked Protein Cookies
Chewy, gooey and extremely moreish, these simple cookies won't stay in your bag for long. In fact, I'd go as far to say that if you can make it 5 minutes into your journey without giving in to temptation and scoffing them straight away, you have willpower of steel. They're that good.
It's super-easy to personalise to your own tastes with the toppings too. Em's gone for some melted dark chocolate pieces, freeze-dried raspberries, and a pinch of salt. Perfection.
Serves 8
Ingredients:
12 tbsp oats (blend half into flour)
2 scoops Impact Whey Protein (Vanilla)
1 tbsp chia seeds
1 tbsp pumpkin seeds
2 overripe bananas
1 heaped tbsp peanut butter
1 tbsp maple syrup or honey
75ml milk
Dark chocolate pieces (optional topping)
Pinch of salt (optional topping)
Method
Preheat the oven to 170C.
Add all the dry ingredients to a small bowl and stir to combine. Set aside.
Put all the wet ingredients in a blender and blitz until smooth. Add the wet mixture to the dry ingredients and then fold together. Taste the batter at this point and sweeten if you think necessary.
Leave the mixture to stand for 15 minutes (it will be runny at this point).
Spoon the batter onto a greaseproof paper-lined baking tray. You should have enough mixture for 8 evenly sized cookies. Make sure to leave enough space between each in case of spreading during the cooking process.
Top with dark chocolate pieces if using, then bake in the oven for 10 minutes. Be careful not to overbake, as this will make them dry.
Take the cookies out while they're still a little soft (they will harden as they cool). Add a pinch of salt to the top of each one if you wish.
Enjoy immediately or keep in the fridge in an airtight container for up to 5 days.
3. Filo Chicken Sausage Rolls
Another savoury delight, these sausage rolls will keep you out of the Gregg's queue. Bold claim, I know. Packed with super-tasty flavours and a little hint of spice from fresh chilli, they're a solid snack choice with 15g of protein per serving.
This recipe makes 8 individual rolls — perfect for a mid-afternoon boost or a contingency snack to keep in your gym bag to instantly fix post-workout cravings.
Serves 8
Ingredients
500g seasoned chicken sausage mince
4 tbsp fresh chives (chopped)
1 small red chilli (diced)
1 small courgette (grated)
Filo pastry
1 egg (beaten)
Salt & pepper to taste
Low-fat cooking spray or oil
Method
Preheat the oven to 180C (if you have an air fryer you can use this instead).
Mix the chicken sausage mince with the chopped chives, chili, grated courgette, and season with salt and pepper. Make sure everything is evenly combined.
Roll out a sheet of filo pastry and cut it in half so that you have 2 squares. Using a cook spray or oil to lightly spritz each layer and coat.
Shape the sausage meat into a long tube on each slice of filo sheet along one edge, and then roll it to wrap with pastry. Oil the final roll before sealing.
Use a serrated bread knife to slice up the wrapped sausage tube into 2-inch rolls.
Brush these with an egg wash and top with a crack of black pepper.
Place in the oven to bake for 15-20 minutes until golden and cooked all the way through (or use your air fryer for 12-15 minutes).
Enjoy immediately or wrap in foil to take with you on the move. Keep any remaining sausage rolls in the fridge in an airtight container for up to 3 days.
Nutritional info per serving: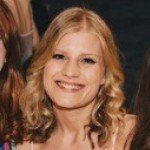 Lauren is an English Literature graduate originally from the South. She's always loved swimming, has discovered the power of weight training over the past few years, and has lots of room for improvement in her weekly hot yoga class.
On the weekends she's usually cooking or eating some kind of brunch, and she enjoys trying out new recipes with her housemates – especially since shaking off student habits, like mainly surviving off pasta. Above all, she's a firm believer in keeping a balance between the gym and gin.
Find out more about Lauren's experience here.