You've probably gotten used to keeping a face mask on hand for every outing and donning one pretty much wherever you go is no big deal. But if you're a runner, your daily jog might be a bit of respite, where you can gulp some fresh air.
However, experts have said that running in busy areas holds a high risk for transmission of Covid19, so wearing a mask might be the safest call to make. But will this mean you can't run as far? Or as fast? A recent study has found all the answers, and we've broken it down.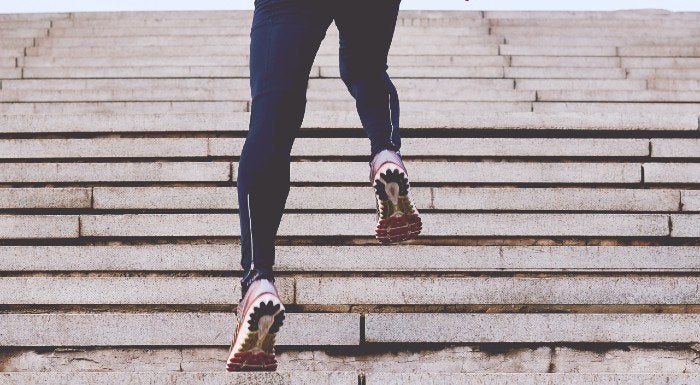 Do I need to wear a mask on runs?
If you're running down a country lane with hardly anyone around, you likely don't need to wear a mask, as the risk of transmitting the virus is very low.
However, in an interview last week, Professor of Health Sciences at Oxford, Trish Greenhalgh, said that there is a danger of Covid transmission from runners in busy areas like high-streets or busy parks.1
Professor Greenhalgh also highlighted a study which found that around 40% of Covid transmissions come from those who are asymptomatic, meaning you could be on your usual jog, feeling absolutely fine, not realising you've got Covid, and that you could be spreading it.2 
Experts say the potential danger lies when you're huffing and puffing in close proximity to others, so it might be best to evaluate how busy your running route might be and pop your mask on if you're entering a heavily populated area, to minimise any potential risk of transmission.1
The good news...
Don't worry, we've got some good news from the experts too. 
In a study last year, it was found that mask wearing during cardio, even the most gruelling kind, did not inhibit performance at all.3 
The study took 14 healthy men and women, who had their sleep, diet, and activity levels controlled 24 hours before the study began, and asked them to exercise to exhaustion on a fitness bike. They did this 3 times, once wearing a 3-layered cloth mask, once wearing a surgical face mask, and once with no mask at all.3 
The study found that there was no impact on physical performance for those wearing a face mask, and minimal impact on blood and muscle oxygenation levels.3 
So, although you might get a bit sweatier on your run when wearing a face mask, if you're in a busy area it'll be worth it to avoid any potential transmission, and you can rest easy that your performance will be left unaffected. 
Take Home Message
As we can see hope in the horizon of us getting out of this pandemic, it's important to continue to follow social distancing guidelines and minimise risk of transmission where we can. So, if you know you'll be passing through a busy area on your run, consider wearing a mask, studies have shown that it won't affect your performance, and could potentially save someone from contracting the virus.
Wearing a mask on your runs is not mandatory in England. Have a look at your local government's website to find the rules surrounding Covid19 in your area.
Enjoyed this article?
READ THESE NEXT:
1. Interview with Prof. Trish Greenhalgh, Good Morning Britain (GMB), (2nd March 2021), https://bit.ly/3vbfxRc
2. Prevalence of Asymptomatic SARS-CoV-2 Infection A Narrative Review
Daniel P. Oran, AM, Eric J. Topol, MD, https://doi.org/10.7326/M20-3012 
3. Shaw, K., Butcher, S., Ko, J., Zello, G. A., &Chilibeck, P. D. (2020). Wearing of Cloth or Disposable Surgical Face Masks has no Effect on Vigorous Exercise Performance in Healthy Individuals. International Journal of Environmental Research and Public Health, 17(21), 8110.