We've always admired Vimto's refreshingly different flavour, so we've teamed up with Vimto® to create a fresh, exciting range of products, designed to give you flavour and sports nutrition all in one. 
We've got a range of incredible new products, all with Vimto's signature flavour and Myprotein's high quality nutrition. So, let's dive in.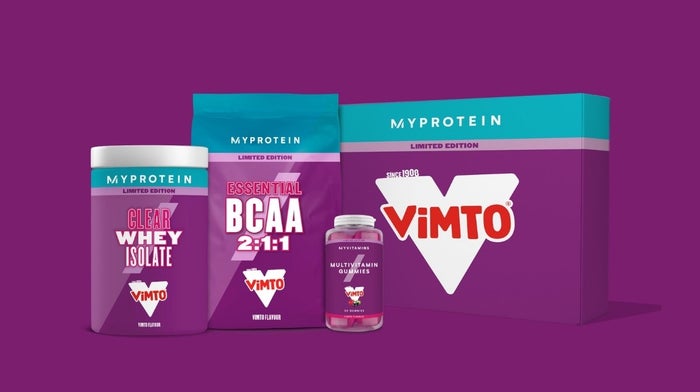 Vimto Multivitamin Gummies
If you're a fan of our classic Strawberry flavour Multivitamin Gummies, we think you'll love the Vimto ones too. Made with the same blend of 11 essential vitamins and minerals, vitamin C to support your immune system, and biotin to support healthy hair, skin and nails, with the unmistakable Vimto flavour.
Vimto Clear Whey Isolate
We've transformed another Myprotein classic with Vimto Clear Whey. Established in Manchester, just like Myprotein, and running since 1908, Vimto know their stuff when it comes to making refreshingly different drinks. And we know what we're doing when it comes to making protein that tastes delicious. So, adding Vimto to our Clear Whey family was a no-brainer. 
Low in sugar, light and refreshing, and with 20g of protein per serving; just perfect.
Vimto BCAAs
Now you can maximise recovery whilst drinking Vimto. 
BCAAs are the building blocks of protein, promoting muscle build, maintenance and reducing soreness. You can now get your Vimto fix before a workout for an energy boost or after to kickstart the recovery process.
Vimto Shaker
Go on, treat yourself to a brand-new shaker. In the signature Vimto colours this will shake up your BCAAs to perfection.
Vimto ½ Gallon Hydrator
We shouldn't need to remind you to drink your water, but just in case we do, here's a Vimto ½ gallon hydrator. Yep, ½ gallon. That should keep your thirst quenched for a while.
Take home message
We hope we've pleased Vimto fans everywhere with this one. Give your workouts the supplements they deserve and enjoy every sip with Vimto.
Our articles should be used for informational and educational purposes only and are not intended to be taken as medical advice. If you're concerned, consult a health professional before taking dietary supplements or introducing any major changes to your diet.