First came the world's first Clear Whey, then came Clear Vegan, Clear Soy and the rest of the family. Next, we returned to the lab to come up with new flavours to tempt your taste buds, collaborating with Vimto to concoct what's now a firm fan favourite Clear Whey range.
And now, we've got some extra juicy news to share with you: we've teamed up with candy bean company Jelly Belly for a new range of Clear Whey based on five of their classic flavours.
And to top it off, we've also created ready-to-drink BCAA Energy drinks in two Jelly Belly flavours, so you'll get a boost of energy and important BCAAs in Jelly Belly style.
Here's all the info you need on Jelly Belly Clear Whey and how you can get yours.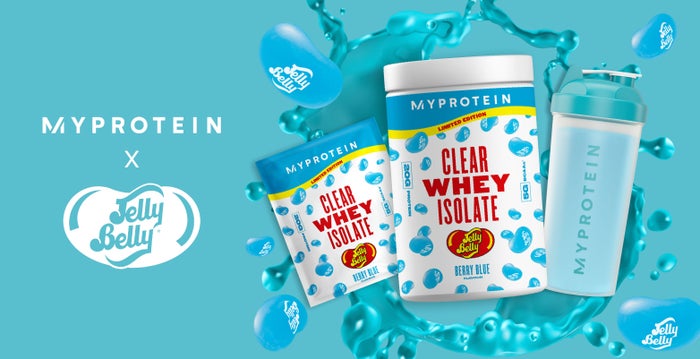 What is Jelly Belly?
Before it became the brand it is today, Jelly Belly was originally a candy company under the name the Herman Goelitz brand. They were selling a range of candy delights from 1898 until it became the brand we know and love today, Jelly Belly, in 1976.
Every decade brought a new gourmet jelly bean flavour experience, including vibrant new colours and shapes. So it's no surprise that an estimated 15 billion are consumed annually1.
The first eight iconic Jelly Belly flavours were released in 1976: Root Beer, Green Apple, Liquorice, Cream Soda, Lemon, Tangerine, Very Cherry, and Grape. And now, Jelly Belly boasts more than 100 flavours in total.
So, that's why we've teamed up with the industry leading jelly bean connoisseurs to bring you five incredibly juicy flavours.
Jelly Belly X Clear Whey
We've been big fans of Jelly Belly for a while now and couldn't resist the opportunity of a Jelly Belly Clear Whey, so we made it happen; a premium jelly bean flavour experience that will turn supporting your macros into a delightful treat.
We've taken some of the tastiest, most nostalgic flavours and infused them into our award-winning Clear Whey Isolate, meaning every shake is bursting with an exciting flavour just waiting to tantalise your tastebuds.
We've taken Green Apple, Tutti-Fruitti, Bubble Gum, Very Cherry and Berry Blue and combined them with the Clear Whey formula.
That means these flavours still contain the macros and micros you love but with a Jelly Belly twist. 20g of protein, 4g of BCAAs and under 85 calories, this Clear Whey iteration won't disappoint.
Whether you're looking for a refreshing classic like Green Apple, want to throw it back to your childhood with Tutti-Fruitti or fancy something truly fruity like Very Cherry, there's a flavour for you.
Light and refreshing, Clear Whey is an absolute game-changer for summer training, providing you with all-important macros without the creaminess of a traditional shake. Just like sippin' on some fruit squash, you'll forget this is even a sports nutrition product.
Jelly Belly X BCAA Energy
With amino acids, essential vitamins and a hit of caffeine, BCCA Energy Drink is the perfect thirst-quencher. Whether you need a bit of a boost before the gym, or just need a 3pm pick-me-up, this is a great option.
So we couldn't resist adding two Jelly Belly flavours to the BCAA Energy formula, packing a flavourful punch to your everyday supplements.
Now you can get your energy boost in Very Cherry or Bubble Gum — consider your thirst quenched.
Jelly Belly Recipes
There's loads you can do with Clear Whey beyond just adding water. From cheesecake to mocktails, the options really are endless. Keep an eye on our socials for exclusive Jelly Belly Clear Whey recipes coming soon.
But if you can't wait till then, check out these mocktail recipes in the meantime...
Take home message
We're beyond excited to announce this collab with Jelly Belly and can't wait to hear what you think of it. Whether you go for the classic Clear Whey formula, try the BCAA Energy Drink or decide to throw both in your basket (go on, you deserve it), we hope you love it as much as us.
And don't forget to try out some Clear Whey recipes too, to really switch up your post-workout routine.
Our articles should be used for informational and educational purposes only and are not intended to be taken as medical advice. If you're concerned, consult a health professional before taking dietary supplements or introducing any major changes to your diet.
https://www.licenseglobal.com/corporate-brands/wow-factor-jelly-bellys-colorful-licensing-play