Your bank holiday plans may not be as exciting as usual, but there's nothing like several layers of chocolate to boost your mood.
---
A lot of us are taking this extra time indoors to truly embrace getting up to scratch with baking and cooking experiments that we would never have attempted before.
This ice cream brownie layer cake is definitely something to treat yourself with this Easter weekend, even if you can't share it with as many friends and family as you'd have liked. If it's a success, you can always keep it up your sleeve the for next gathering, right?
Made with low-fat plain yoghurt and our bestselling Impact Whey Protein, it's an indulgent-tasting dessert that also packs in the protein — a massive 42g per serving, in fact! Perfect for helping you stay on track with your macros without it feeling like you're missing out.
Feel free to get experimental with your protein flavours too, we've gone for a delicious combo of dark chocolate and salted caramel, but if you have an unfinished pouch of your favourite Impact Whey just sitting in the cupboard already, this is the perfect chance to put it to use!
So go for it — everyone deserves a slice of something as special as this right now.
Serves 8
Ingredients
Toppings: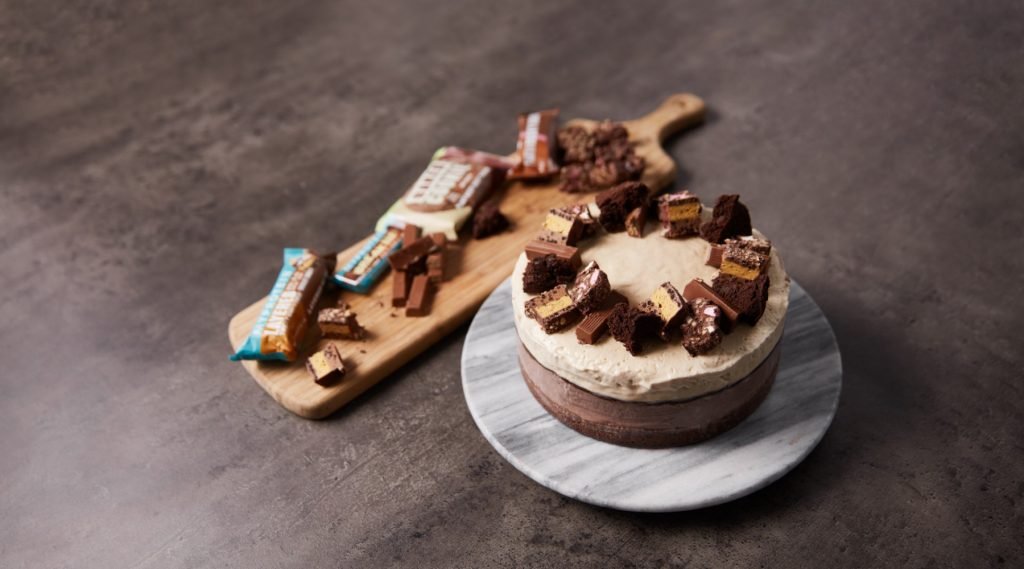 Method
1) First, crumble up the Protein Brownies into a microwave-safe bowl. Then microwave on a low setting for 15-30 seconds so they are slightly warm (this makes it easier to flatten them into a base layer). Tip them into a large round cake tin and use the bottom of a glass or spatula to flatten them down into an even layer. Set aside.
2) Then prepare your first ice cream layer by mixing half of the yoghurt with the dark chocolate Impact Whey Protein. Whisk until you have a smooth, completely combined mixture and then pour it into the cake tin on top of the brownie base.
3) Squirt a generous layer of chocolate Sugar-Free Syrup on top of the yoghurt layer, then freeze for 30 minutes.
4) Meanwhile, prepare the second ice cream layer by mixing the remaining half of the yoghurt with the salted caramel protein.
5) After the 30 minutes is up, remove the cake tin from the freezer and pour this second yoghurt layer on top. Use a spatula to smooth it across so it covers the entire cake. Then freeze for at least 4 hours, preferably overnight.
6) The fun bit — top your layer cake with plenty of high-protein treats! We've gone for a winning combo of some of our best #TreatWithoutTheCheat snacks, including pieces of Protein Rocky Road, Baked Cookie, Break Bar, and Layered Bar.
7) Serve & enjoy!