We're shaking up your summer with three brand new flavours of
Clear Whe
y.
Our favourite fruity protein range just got even juicier with three incredible new additions — bold blood orange, sweet pineapple, and refreshing white peach.
Ideal for keeping you hydrated during warmer weather workouts, while providing a helpful hit of quality whey protein to support your training progress — Clear Whey Isolate is a must-have for your supplement stack.
Recipe pro @healthy_floflo is serving up three irresistible mocktail recipes for you to try out this summer. Your holiday plans might be uncertain, but we can guarantee these delicious drinks will bring you a little taste of the beach, wherever you're enjoying them.
Whether you're after a fresh, citrusy Blood Orange Spritz, a cool & creamy Piña Colada, or a delicate White Peach Bellini — we've got your order. Cheers to that!
Each serves 1
Ingredients
Blood Orange Spritz:
150ml water
Squeeze orange juice
Diet lemonade to top up
Ice
Garnish with orange slices
Piña Colada:
White Peach Bellini: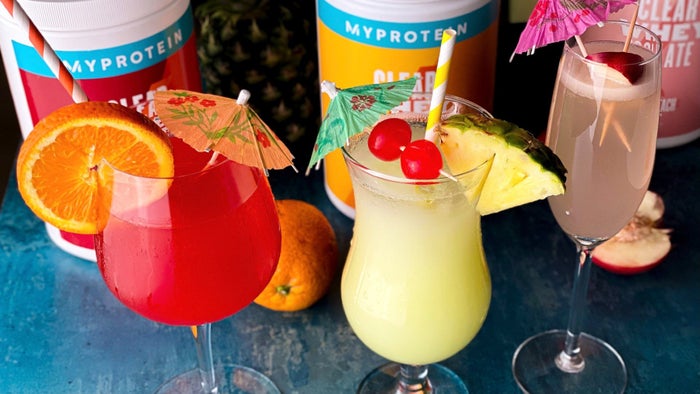 Method
First add the water and Clear Whey Isolate to a shaker and shake up until smooth & combined. Allow to settle for a few seconds so the froth disappears.
Add a squeeze of orange to the Blood Orange Spritz, the coconut milk to the Piña Colada, or peach puree to the White Peach Bellini and shake well too. Then pour each drink into a glass with ice — through a strainer if you have one.
If making the Blood Orange Spritz, top up with a dash of lemonade for a little fizz and garnish with orange slices. For the Piña Colada add pineapple slices and a maraschino cherry for a tropical twist, and for the White Peach Bellini top up with soda or sparkling water. Bottoms up!
Nutritional info per serving:
| | | | | |
| --- | --- | --- | --- | --- |
|   | Calories | Protein | Carbs | Fat |
| Blood Orange Spritz | 94 | 20.1g | 2.7g | 0.1g |
| Piña Colada | 131 | 20.4g | 2.1g | 4.3g |
| White Peach Bellini | 129 | 20.4g | 10.6g | 0.1g |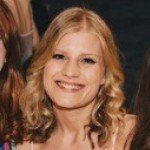 Lauren is an English Literature graduate originally from the South. She's always loved swimming, has discovered the power of weight training over the past few years, and has lots of room for improvement in her weekly hot yoga class.
On the weekends she's usually cooking or eating some kind of brunch, and she enjoys trying out new recipes with her housemates – especially since shaking off student habits, like mainly surviving off pasta. Above all, she's a firm believer in keeping a balance between the gym and gin.
Find out more about Lauren's experience here.