Ever wondered what it takes to reach the pinnacle of bodybuilding? Well, Ryan Terry can definitely answer that.  
After 12 years in the business and 6 times competing in the biggest bodybuilding competition in the world, The Olympia, Ryan really has seen it all. 
He's competed alongside the biggest and best names in the industry, but today he's sharing some inside information on how he preps for competitions and what it takes to get to the top. 
Watch below to discover all this and more...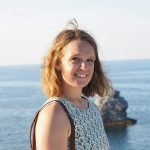 Evangeline has taken part in competitive sports since a young age. As a qualified RYA Dinghy Instructor, she understands the importance of proper nutrition for fuelling extreme and endurance sports, especially due to her experience in Team GBR Squads and captaining and coaching her University first team.
In her spare time, Evangeline loves running – especially marathons. On the weekends, you'll find her taking on water sports or hiking up a hill. Her favourite evenings are spent taking on a HIIT session or squats in the gym before digging into some spicy food and a ton of vegetables – yum!
Find out more about Evie's experience here.