We might have been here twice before, but that doesn't make lockdown any easier. In fact, a lot of people are finding lockdown part 3 even more challenging, and that's completely understandable. But there are ways that you can make the best of it, get your productivity up, and hopefully with a bit of normality, your happiness can be boosted too. One of the main things to consider is routine. 
Lockdown has once again thrown any structure that we had, back into out the window again. Our minds and bodies love routine, and so it's important to try and maintain a new one in this lockdown. We've got a few tips to run through – so if you're in need of some lockdown guidance, keep reading. 
1. Get up and go to bed at the same time each day 
Whether it's 6am or 9am, getting up at the same time each day will keep your body clock on track. The more consistent you are with getting up, and going to bed too, the easier it becomes to wake up, sometimes without an alarm if you're really consistent, and drift back off at night. 
Try to allow yourself at least an hour from waking up, until when you have to start work instead of rolling out of bed and having to immediately flip open your laptop. And in the same way, try to have a good 30-minute wind down at the same time each day before bed. This allows your body and mind to adjust to the pattern and realise when it's time for sleep.
Need some help catching some Z's? Read this article next.
2. Set your workout days and stick to them 
Without having gyms open a lot of us are struggling to find our motivation to work out again. And it's understandable. Gyms offer a whole new environment to get your workouts done in, and with all the equipment you could need. But enough reminiscing about the days of queuing for the leg press. 
Choose some set workout days, and write down what you'll be doing on each day. If you set these days, you're more likely to create a habit that sticks. 
Adding this regular, structured exercise into your lockdown routine is essential for giving you that extra bit of normality as well as regular bursts of endorphins. 
Need some help getting back into your workouts? Start with this 20 minute muscle builder.
3. Get dressed 
Now...this may sound super simple to some people, but I'm sure a lot of us have realised throughout these lockdowns that it's all too easy to stay in your pyjamas when you've got nowhere to go. 
But, when building a sustainable, healthy routine, making sure you get dressed into some actual clothes can be life changing. You'll feel less groggy, more put together, and more likely to stick to the rest of your lockdown routine and to dos for that day. 
And of course, getting dressed into actual clothes, even if that's just a pair of joggers and a hoodie, injects some much-needed normality into lockdown life. 
Need outfit inspo? We've got you.
4. Get into a habit of making to do lists
A good to do list is essential when you're building up a routine. 
Creating to do lists each day will help you to practically structure your days, and allow you to see your routine on paper, which will definitely help you stick to it. You'll also feel an insane feeling of accomplishment the more you manage to tick off each day. 
Split out your time amongst tasks, breaks, workouts and fun things you've got planned (even if it's just going to the supermarket...). Visualising your routine each day will definitely help you form healthy habits you can keep throughout lockdown. 
5. Keep weekends, weekends 
With everyone staying inside, no bars, restaurants, gyms or night clubs open... (remember them?) our weekends can merge into our weekdays pretty easily. Especially if you don't have a typical 9-5 job right now. So, making sure that your weekends have their own defining factor is really important for a good routine. 
Go and get your favourite takeaway every Friday. Or make Saturdays a movie night. Whatever it is, make sure you do something fun on weekends that sets Saturdays apart from Tuesdays.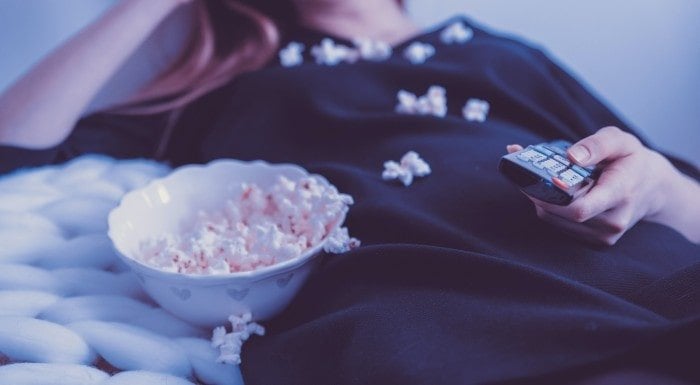 Take Home Message
Lockdown is tough on everyone, but one way to make it easier is to create a good routine. Focus on completely daily tasks, no matter how mundane, wake up and go to sleep at the same time every day, and make your weekends, weekends.
All of these little things will inject that little bit of normality back in to your life, and help you stay productive even in these weird times.
Found this article helpful?
READ THESE NEXT: