Yoga practice is not only a deeply relaxing exercise for the mind, it also is incredibly empowering for the body. Requiring strength, balance and flexibility, a yogi's clothing needs to aid all of these skills to help you perfect your poses. 
This second iteration of Composure has been carefully crafted to ensure comfort and mobility. Composure 2.0 also aids your relaxation, allowing you to and get into the right frame of mind for a good yoga practice with deliberately calming colourways. 
Whether you're practicing in the studio, at home, or out in the sunshine, Composure 2.0 is the perfect companion.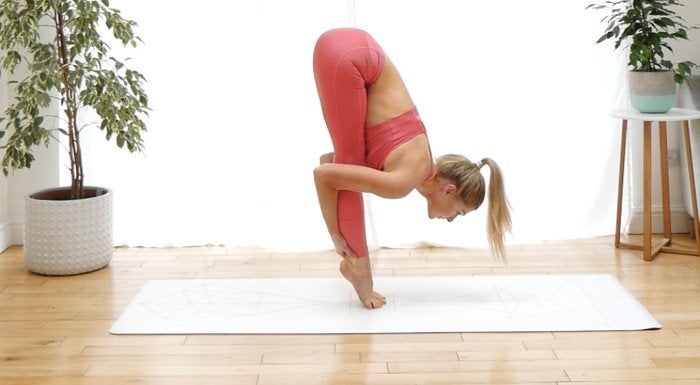 Sports Bra
The sports bra from Composure offers medium support through the double layering and the encased underbust. The crossover design of the straps at the back allows for unrestricted movement, as well as style. 
All of Composure 2.0 is made with sustainable fabrics, and our sports bras are no exception. Made from REPREVE, a high-quality, recycled fabric. 
Choose from 3 colourways that have been carefully selected to aid relaxation and calm: Washed Oxblood, Berry Pink and Energy Green. 
Leggings
Behind every good yoga pose is a great pair of leggings...and that's exactly what Composure 2.0 has brought. 
With a soft, bonded waistband and minimal seams, these leggings feel as great as they look, with the extended front rise giving the illusion of an elongated silhouette to compliment your poses. 
Our leggings are also made from REPREVE recycled fabrics, so you know that they're environmentally friendly. 
We've also got cycling shorts with all the same features of our leggings, for any summer yoga practice. 
Choose from the same calming colours: Washed Oxblood, Berry Pink and Energy Green. 
Vest
To complete your yoga look, pair your leggings with the Composure vest. Made with double layered fabric and built-in bra support, this vest will help you seamlessly move through your movements. Designed with a racerback for full mobility, and made with REPREVE recycled fabric, this vest will become your new go-to. 
Choose from muted colours Thunder Grey and Burnt Red. 
T-shirt
The Composure t-shirt mirrors how effortless yoga looks with the twist front detail and flattering cropped length to ensure it sits perfectly on your leggings. 
Made from biodegradable fabrics, the Composure t-shirt gives you peace of mind that it was made with sustainability a significant consideration. 
Get your Composure t-shirt in Washed Oxblood. 
 Joggers
The joggers from Composure 2.0 are perfect for lounging around as well as practical wear, if you want something a little cosier for your session. 
The drawstring waist means you can find your perfect fit, and environmentally friendly soft-touch BCI cotton will keep you comfortable. The deep cuff ensures the joggers stay put no matter how sophisticated your poses get, and the coverstitch seams reduces irritation. 
Choose from Washed Oxblood and Washed Green 
Sweatshirt
Everyone needs a matching set of sweats. So, we made the perfect sweatshirt to complete your Composure joggers. 
For lazy days or chillier sessions, the Composure sweatshirt is made to let you do both. Soft-touch BCI cotton allows you to feel comfortable, whilst raglan sleeves and a crew neck provide you the freedom to move without restriction. 
Choose from Washed Green and Washed Oxblood.
Want some more yoga advice?
READ THESE NEXT: