Whether you're trying to be good in terms of your diet or spending habits, we've got the perfect fakeaway solution to fix your fast food cravings.
This cheeky homemade Peri Peri recipe from Niall Kirkland is every bit as delicious as the real thing — and it can be made from the comfort of your own home. Absolutely full of flavour, you can choose to make the marinade as spicy as you like it just by adding more or less of the chillies (Lemon & Herb lovers this is directed at you).
Ideal for a Friday night treat to get your weekend off to a good start, we guarantee this recipe will quickly become a favourite in your household.
Serves 4
Ingredients
For the Peri Peri sauce:
2 sweet red peppers (chopped)
1 red onion (chopped)
1 lemon (halved)
4 garlic cloves
3 tbsp. extra virgin olive oil
1 handful of basil (chopped)
1 tbsp. oregano
1 tbsp. paprika
Salt & pepper to taste
2 Bird's Eye chillies (any red chilli is fine)
4 chicken breasts (butterflied)
For the Peri salted chips:
1kg Maris Piper potatoes (cut into chips)
2 tbsp. coconut oil (melted)
1 tsp. paprika
1 tsp. garlic granules
½ tsp. chilli powder
Salt & pepper to taste
Serving suggestions:
4 corn on the cob
Side salad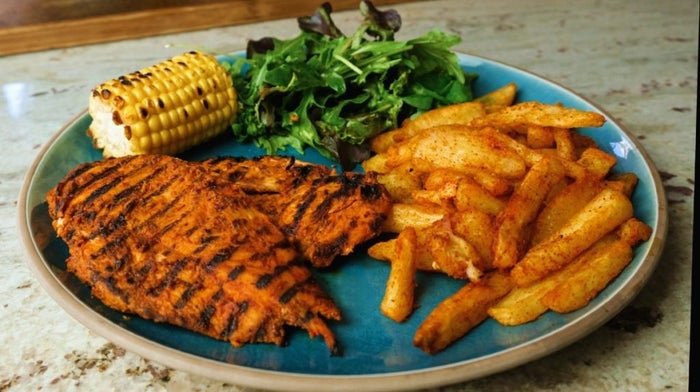 Method
To prepare the chicken:
Preheat the oven to 180°C/350°F.
Add the red peppers, red onion, lemon, and garlic (wrapped in tin foil) to a baking dish. Coat in 1 tablespoon of olive oil, season well, and bake for 30 minutes.
Once baked, transfer to a blender along with the remaining 2 tablespoons of olive oil, basil, oregano, paprika, chilli, salt and pepper and blitz until smooth.
Add the butterflied chicken breasts to a large bowl and cover with the Peri Peri sauce. Massage the sauce into the chicken, cover the bowl and leave to marinate for at least 3 hours (preferably overnight).
To cook:
Preheat the oven to 200°C/400°F.
Peel & cut your potatoes into chips and place them into a large saucepan of boiling water to parboil for 10 minutes. The drain and transfer to a baking tray.
Add the melted coconut oil, mixing well to ensure all chips are coated, and then bake for 45 minutes or until the chips are golden and crispy.
When the chips have been in for 30 minutes, heat a non-stick pan or cast iron griddle and add the marinated chicken breasts. Cook for roughly 5 minutes on each side, making sure the chicken is entirely cooked through and not pink in the middle.
Once the chips are cooked, transfer to a large bowl and add the paprika, garlic granules, chilli powder and season to taste. Mix all the seasonings well so that your chips are evenly coated.
Serve the Peri Peri chicken and Peri salted chips with any other sides of your choice (Niall's gone for a corn on the cob and side salad) — then enjoy!
Try these fakeaways next: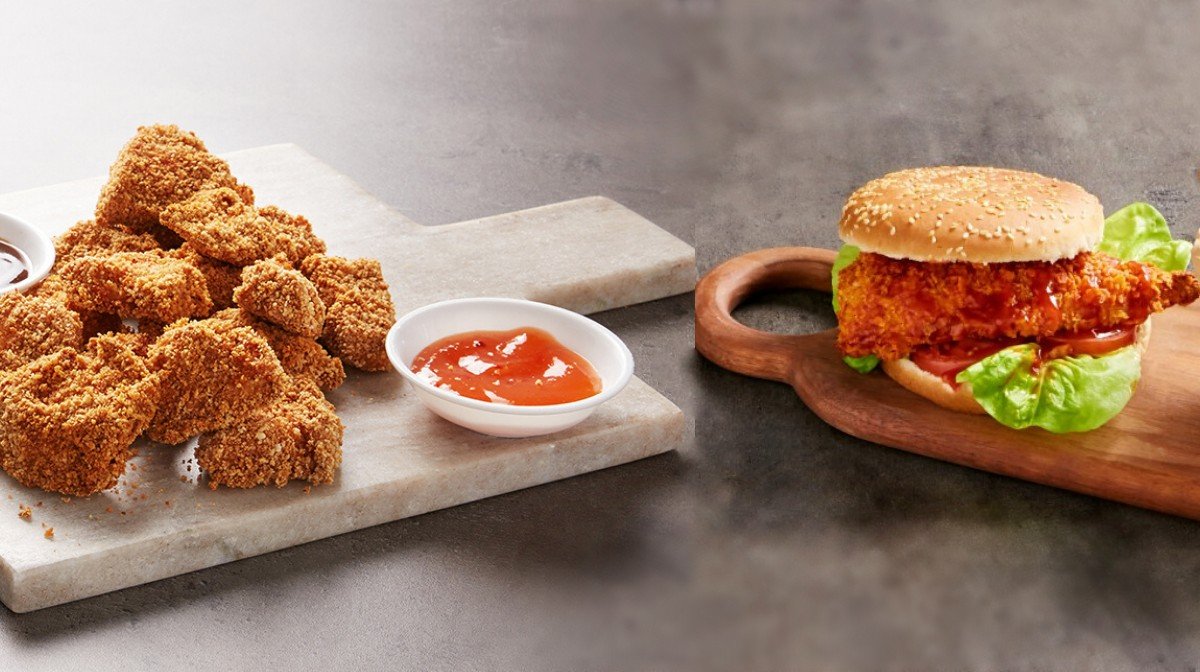 Nutritional info per serving:
| | |
| --- | --- |
| Calories | 656 |
| Total Fat | 26g |
| Total Carbohydrates | 67g |
| Protein | 42g |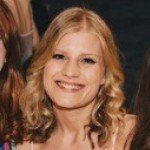 Lauren is an English Literature graduate originally from the South. She's always loved swimming, has discovered the power of weight training over the past few years, and has lots of room for improvement in her weekly hot yoga class.
On the weekends she's usually cooking or eating some kind of brunch, and she enjoys trying out new recipes with her housemates – especially since shaking off student habits, like mainly surviving off pasta. Above all, she's a firm believer in keeping a balance between the gym and gin.
Find out more about Lauren's experience here.