To celebrate Mental Health Awareness this October, we've taken a look at some of the best mood-boosting foods out there to create delicious meals that can help to nourish both your mind and body.
Related article: 5 easy ways to eat yourself happy — top mood foods for mental health
Omega-3 essential fatty acids have been linked to having mental health benefits and time again.1,2 EPA and DHA, found mainly in fish oil, have been shown to positively affect mood and it's thought that this might be because they influence neuronal signalling. There is even clinical evidence to suggest that omega-3 fatty acids can play a role in certain cases of depression.1
Salmon is one of the best sources of the omega-3 around and it also has a high protein content — double win. This super-simple one-tray recipe is the ideal way to quickly prep your salmon so that it's infused with all that irresistible pesto flavour, while getting a healthy portion of veg too.
It's ideal for a satisfying evening meal and any portions that are left over can be boxed up for lunches too.
Serves 4
Ingredients
4 salmon fillets
Pesto
400g mangetout
400g broccoli
Bunch of asparagus
300g cherry tomatoes
Olive oil
Salt
Pepper
Oregano

Method
Preheat the oven to 200°C.
Line a baking tray with baking paper using enough so that you can pinch the paper at around two thirds of the way across the tray to form a "wall" to separate the salmon from the veg.
In the smaller area of the tray, place all four salmon fillets and brush them with a tablespoon of pesto each.
Place all the greens and tomatoes in the bigger area of the tray, then sprinkle with olive oil, salt, pepper and oregano —making sure that everything is evenly coated.
Bake for 20 minutes and then serve immediately or portion up for your lunches that week. If you're after a serving of carbs too, this goes perfectly with rice or new potatoes!
References
Logan, A. C. (2004). Omega-3 fatty acids and major depression: a primer for the mental health professional. 

Lipids in health and disease

, 

3

(1), 1-8.
Shahidi, F., & Miraliakbari, H. (2005). Omega-3 fatty acids in health and disease: Part 2—Health effects of omega-3 fatty acids in autoimmune diseases, mental health, and gene expression. 

Journal of Medicinal Food

, 

8

(2), 133-148.
Check these out next:
Nutritional info per serving:
| | |
| --- | --- |
| Calories | 496 |
| Total Fat | 29g |
| Total Carbohydrates | 16g |
| Protein | 40g |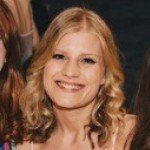 Lauren is an English Literature graduate originally from the South. She's always loved swimming, has discovered the power of weight training over the past few years, and has lots of room for improvement in her weekly hot yoga class.
On the weekends she's usually cooking or eating some kind of brunch, and she enjoys trying out new recipes with her housemates – especially since shaking off student habits, like mainly surviving off pasta. Above all, she's a firm believer in keeping a balance between the gym and gin.
Find out more about Lauren's experience here.