Tommy Fury isn't one to back down from a challenge, whether it's in the ring, in the gym, or in the tattoo parlour. Fury—who's made it public he doesn't like tattoos (even matching ones with Molly Mae)—sat down with Myprotein for an interview while getting inked for the first time ever.
The professional boxer and Love Island star opened up about his life, his upcoming fight with KSI, his training regimen, and what it truly means to be a Fury. Here's what he said.
Balancing fatherhood and training
As Tommy sets to face off in a six-round cruiserweight match at Manchester's AO Arena against KSI on October 14, he's making it clear he's not here to mess around—but it's not just about stepping into the ring.
As a new dad to baby Bambi, he faces the challenge of balancing fatherhood with his intense training schedule.
"I find it very hard to be a cuddly, soft dad and then all of a sudden in the morning I've got to switch to ripping a man's head off."
To maintain his focus and prepare for fights, Tommy spends five days a week away from home in training camp alongside his team, including dad John and brother Tyson, to get in the right mental and physical state.
Gym as a sanctuary
The Fury family has faced their share of challenges, particularly related to mental health. For Tommy, his gym time serves as a sanctuary. "Training gets you through."
Even on days when motivation is lacking, Tommy believes that a quick gym session can revitalise you: "The gym is an amazing place whether you're a professional athlete or just an everyday person."
The role of nutrition
When it comes to maintaining peak performance for fights, Tommy's all about the nutrition game. While, at the beginning of his career, he admits his favourite foods were McDonald's and cheese, he says, "I know for a fact that I couldn't do half of the stuff I do now on my old diet. I think nutrition is like 80-90% of it."
Carving his own path & facing KSI
The Fury name is synonymous with boxing excellence, but Tommy's determined to carve out his own path. "Fury is a great name, I'm honoured to be in the family," but he "didn't get into this sport to fight YouTubers or celebrities."
At the end of the day, he's here to win a world title: "Fighting's in my blood; it runs through my veins.
As for KSI, Tommy's confident in his abilities. "KSI is not the man to beat Tommy Fury, just like Jake Paul wasn't. After I knock him out, he'll probably release another song or make another YouTube video."
And when it's all said and done? Tommy's got his eye on bigger things—like a championship belt—but greatness for Tommy goes beyond the ring.
"Greatness for me is just making sure that I provide for my family [...] Nothing beats that feeling of walking through that door after a tough day, getting a cuddle off the missus, swinging the baby up in the air, putting her to bed, going downstairs and putting a film on. That for me is as good as it gets."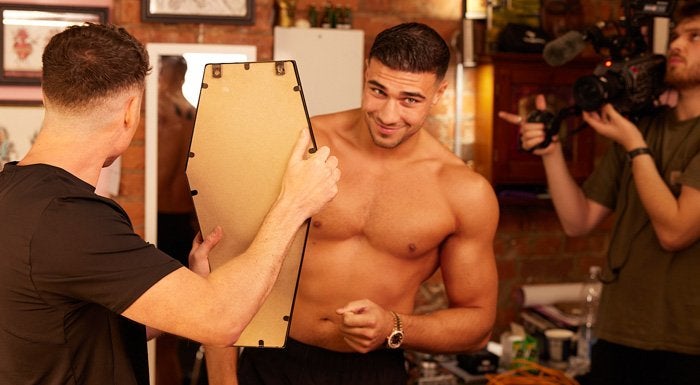 Take home message
Tommy's got heart, both inside and outside the ring. And in a world where boxing is more than just a sport, he's on a journey to make his mark while staying true to his roots. Keep an eye on this rising star.