Following a year of the pandemic, the UK government made clear that tackling obesity and improving health was going to be a priority, and they're starting with advertising. It was confirmed yesterday that junk food advertisements will only be permitted on our screens between 9pm and 5:30am as soon as next year. 
But what's considered "junk food"? And how effective can we expect these restrictions to be? Here's what we know so far.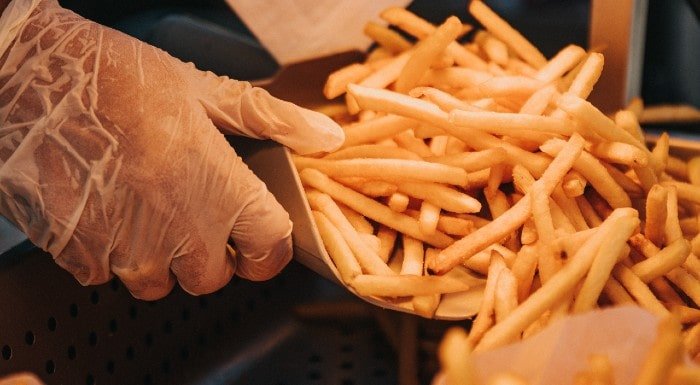 What counts as junk food?
Everything that comes to mind when you think "junk food" are probably on this list, things like chicken nuggets, pizza and ready meals. But the ban also includes things like breakfast cereals and yoghurts which you might not automatically consider "junk food". 
The main factors deciding what lands in the camp of "junk food" are fat, sugar and salt content. If a food is considered high in these macros, it'll be part of the ban. 
But if you've got a few chippies in your area, they could still advertise on your TV even if they do serve these kinds of foods, as the ban does not apply to small businesses with under 250 employees. 
Any avocado toast lovers need not worry either, any foods that are be high in any of these macros but are still healthy, will still be advertised throughout the day. So, things like avocados with healthy fats, and natural sugars like honey will still be broadcast throughout the day. 
Will this make an impact?
The decision has come after seeing the rate of obesity rise over the past 30 years, with now more than 60% of adults being classified as overweight or obese.1 But what kind of role do adverts play in this?  
Well, with research showing that obesity often begins in childhood,2 the ban aims to limit exposure of these adverts to kids (who are ideally in bed by 9pm).
A study done in October 2020, used computer modelling to estimate the impact of the ban using previous data. They estimated that if the ban was put in place, the number of children with obesity would fall by 4.6%.3 
However, the Institute of Practitioners in Advertising cited the government's own Impact Assessment carried out last year in which its own estimates found a reduction of just 1.7 calories a day.4 
So, with a few conflicting estimates it's hard to know what the reality will be. But with the plans confirmed to go ahead at the end of 2022, it seems like we'll find out then.